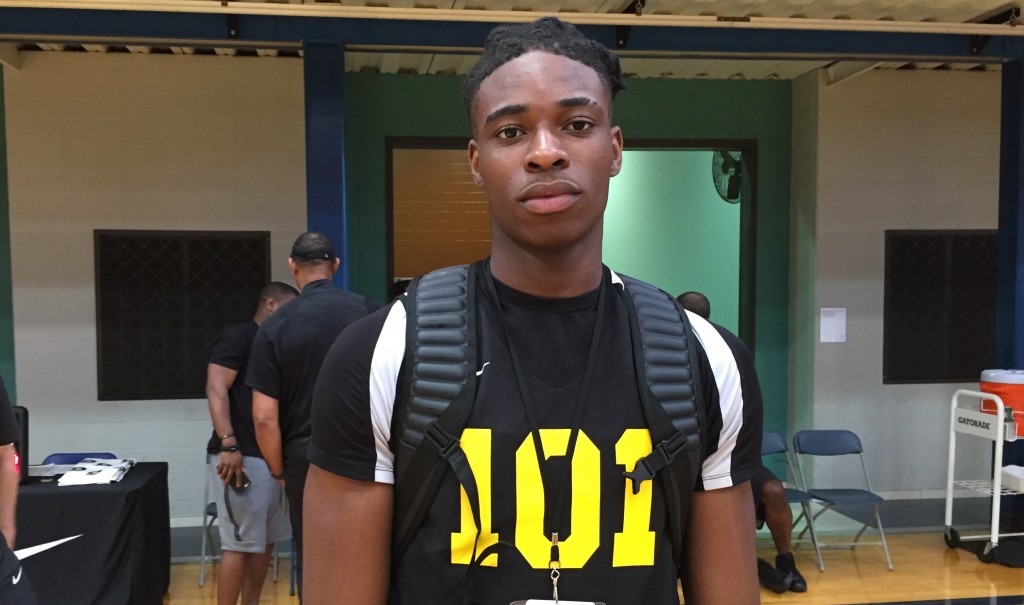 One of the biggest stock-risers from the Nike Elite 100 over the weekend was 2019 Lawrence Woodmere Academy (NY) big man Aidan Igiehon, who impressed in St. Louis with his post presence and immense potential down the road.
A native of Ireland, Igiehon made his move to the United States just before his high school career began. Since then, he has become an intriguing option for college coaches throughout the country.
"Georgetown, Stanford, Oklahoma, Xavier, Yale, Princeton, Illinois, Indiana, Syracuse, St. John's, Ohio State, and Arizona are some of the schools involved," Igiehon told HoopSeen.com. "Duke reached out recently, too."
Igiehon's recruitment speaks volumes about the state of his current game. At 6-foot-10, the rising junior has fantastic hands and footwork in the paint. He dominated on the low block with his strength and size and even showcased a variety of post moves in his arsenal. Igiehon finished over either shoulder, but really excelled with his step-through to counter a hook over his shoulder. He also showed good signs of being a quality defender for his size with the ability to help and recover in pick-and-roll situations.
While it is very early in Igiehon's recruitment, a couple of schools made a statement on June 15th, the first day college coaches could contact 2019 prospects directly.
"Xavier and Ohio State were the first schools to call me at midnight. Coach [Chris} Mack from Xavier called at 12:01 and we had a good talk. I really like him."
Prior to the Elite 100, Igiehon was able to stop by and visit Saint Louis University. He earned an offer from Travis Ford and the Billikens. Igiehon hopes to make some more visits in the near future.
"I visited St. John's my 9th grade year. Yale wants me to come visit before the July travel season gets going again, and Arizona and Syracuse want me to come visit, too. I want to try and get to those schools," he explained.
If his performance from the Elite 100 is any indication, Igiehon is set to soar up coaches' big boards for the 2019 class. Duke is beginning to show preliminary interest, and, chances are they won't be the only blue-blood involved when everything is all said and done. Expect plenty of college coaches to be following Igiehon, a player that has a chance to be regarded as a top-30 big man in the country.