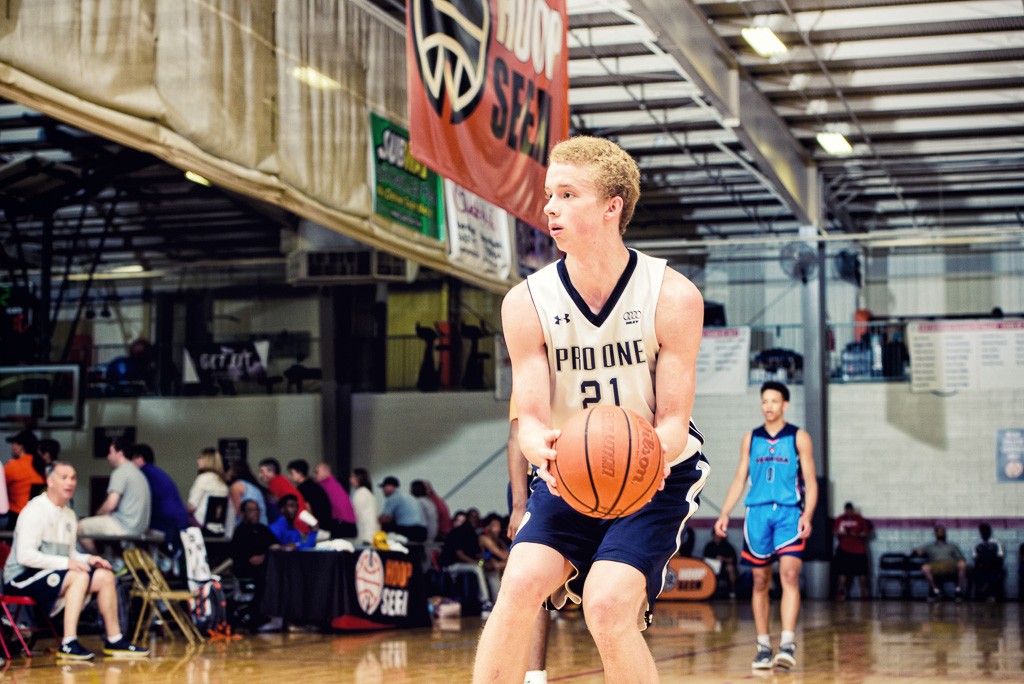 After the April evaluations periods, 2018 Alexandria (AL) forward Dalton Dodd was one of the hottest prospects in the Southeast. In the span of a few weeks, he went from virtually unknown to being called on by schools from the Ohio Valley, SoCon, Big South, Sun Belt, and Conference USA. 
However, one program stayed consistent in their pursuit of the 6-foot-7 forward and was there before anyone else: the UA-Huntsville Chargers, one of the top Division-II programs in the country.
Dodd ended his recruitment Friday afternoon by giving his pledge to the Chargers and head coach Lennie Acuff, turning down the opportunity to earn scholarship offers from several Division-I programs this summer.
"I couldn't turn UAH down," Dodd told HoopSeen.com following his commitment. "They have made me a priority and showed me that I was a player they wanted."
The UAH staff did not miss any of Dodd's games with Pro One Select Navy at the Atlanta Jam. More often than not, Acuff was joined by his full staff at the games, giving the home-state prospect all of their attention.
"The coaches and I have a bond that's more than just basketball. The players all are people that I would want to surround myself with while I'm there. It's an unbelievable place."
Dodd picked up his scholarship offer from UAH last June. In the end, he wasn't mesmerized by the Division-I attention he was garnering. Navy, North Alabama, William & Mary, Lipscomb, Mercer, Columbia, Army, and a host of other programs were interested.
Dodd is a tremendous pickup for UAH. With his versatility and ability to score at all three levels, Dodd will be able to play a similar role to All-American Seab Webster, who also turned down a handful of Division-1 interest to stay home and play for the Chargers. 
Dodd is currently ranked No. 10 in the 2018 Alabama state rankings. With is commitment, the Chargers now have two top 20 prospects, as he joins Madison Academy guard Calvin Walker to make up UAH's current recruiting class.