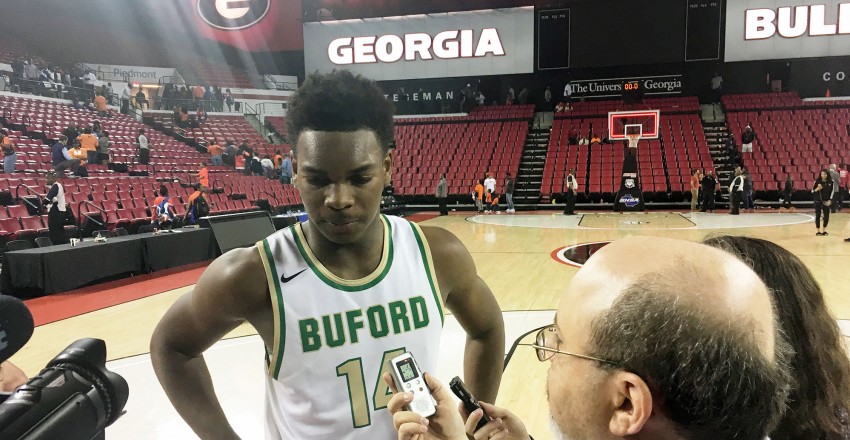 We haven't put a list together of Georgia's top players yet for the class of 2019. But know this - Marcus Watson will be among the top five. Maybe even the top three. The man child from Buford High School was the catalyst in the school's first boys state championship. The buzz began in the Peach State. 
Watson isn't a spring come up guy though. He's been on the scene for a while now. 
Wednesday night may have been the first time the general public saw the high-major prospect in waiting in action. He didn't disappoint. Watson was brilliant in the Wolves state championship victory. 
The 6-foot-6, 215-pound wing pumped in a loud 27 points on 8-16 shooting from the floor. He was 9-13 from the foul line and drilled a couple of threes in the process. He had seven rebounds and two blocks and a pair of assists. 
There wasn't a player on the floor who could contain the freight train coming down the floor of the red and black. 
"He's a man in baby's clothes," Buford head coach Eddie Martin said after the game with a big smile on his face. "That's what it amounts to. He was just unbelievable for us. When he attacks the rim, he's so strong and so athletic. When he attacks the rim, there aren't too many people who can stop him. He's done a great job for us as they all did." 
Martin's right. Few can stop him. Watson was a standout at our invite-only underclassmen Elite Preview camp back in the fall. He was a standout back in North Carolina for former NBA player Rusty LaRue, too. 
The accession has been a process for some time now. 
A host of high-majors have been in to see him, including the local schools. Don't be surprised the entire ACC and SEC checking him out this year on the recruiting circuit. Watson will be on a terrific A.O.T. team, alongside Isaac Okoro, who may just be the best player in Georgia's 2019 class. 
Watson, however, is making his case for that top overall spot, too.