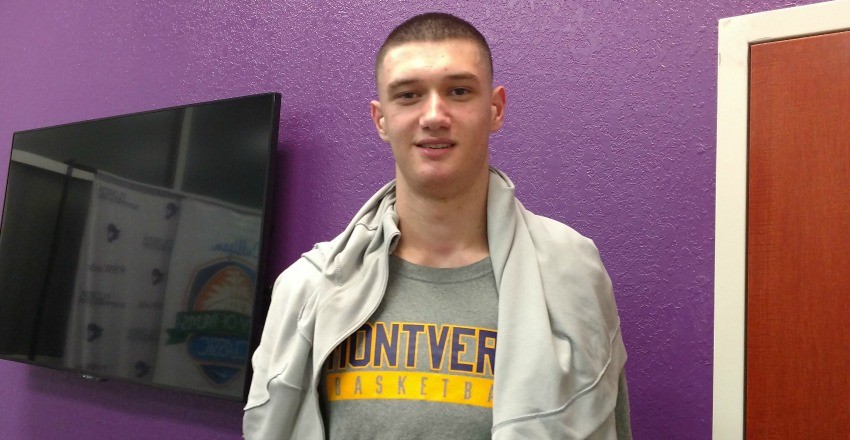 The Montverde Academy basketball program has never lacked for top shelf talent in recent years. The likes of Ben Simmons and D'Angelo Russell are alums of the schools based out of central Florida and this year's group boasts another handful of promising prospects. One that has gone under the radar for a few months but is now beginning to create a buzz is Sandro Mamukelashvili, a 6-foot-9 power forward by way of the country of Georgia.
Bringing great size and a strong body to the frontcourt, Mamukelashvili is not one that will struggle to pass the looks test. He has the frame that should enable for quality strength gain to go along with good hands and instincts on both sides of the glass. A lefty that moves well up and down the floor, Mamukelashvili was actually born in New York where he then headed to the country of Georgia before then reentering the United States this past summer.
Seeing that the amount of talent in the frontcourt still available from members of the 2017 class is minimal, expect for things to heat up with Mamukelashvili. Seeing that things are still forming in the recruitment of the New York born big man, he does bring a variety of dimensions and further upside that could add more attention to things in the weeks and months ahead.
While there is still a lot to learn about Mamukelashvili, the Montverde senior gave insight on his reasons for coming to Montverde. "I have always wanted to play NCAA basketball and people kept telling me to go to the United States for it," the skilled frontcourt big noted. "I just want to play things out and get more offers and hopefully get to the NCAA Tournament and hopefully get the chance to play in the NBA or the Euroleague."
Why might schools be intrigued by Mamukelashvili? The 6-foot-9 big man has a dangerous pick and pop game as the southpaw wields an efficient jumper with his feet set, can pass the ball well within the half-court setting, and is more than capable of rebounding his area on the glass.
After being watched by Vanderbilt, Pitt, Seton Hall, Villanova, and bevy of others on Monday at the City of Palms Classic, all of whom have inquired on the big man, Mamukelashvili has two schools that he has an eye. "I don't have any visits set but I do want to take one to USC and Vanderbilt," the versatile forward noted.
Thanks to his ability to play inside and out, size in the frontcourt, and his national schedule at hand for the talented Montverde program, expect for many more to get involved with the skilled and highly potent big man that is Sandro Mamukelashvili.