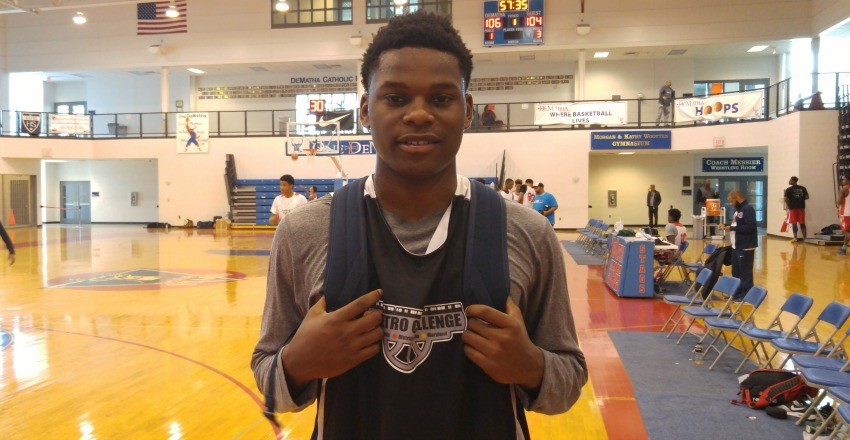 The John Carroll basketball program has never been one that has lacked for talent. This year is nothing outside of the norm and thanks to the improvements of top-100 forward Nate Roberts and five-star lead guard Immanuel Quickley, the duo out of the junior class have shown that they can lead head coach John Zito's program to heightened success. However, it has been Montez Mathis, another fellow 2018 class member, which has made giant progressions leading to huge outputs on the final box score.
A member of the USA Basketball family entering his high school career, Mathis has been a pretty talked about name for a few years now. However, for one reason or not, things stalled a bit until this high school year. Word out of the John Carroll program was that the 6-foot-4 guard had arguably looked the best of his peers and that he was due to have a coming out party this winter.
Not only has Mathis jumped out of the gates leading his team to just a lone defeat out of his squad's first five games, but he has also stepped up and filled in nicely for Immanuel Quickley as the top-10 guard is currently sidelined with an injury. In his past two games, Mathis exploded for 35 points and eight rebounds while he outdid himself in his latter contest going for 31 points and 14 rebounds with an assistant from Indiana on hand.
While the opportunity presented to him might be one of the reasons for his early success, Mathis gave further insight on his mentality entering his junior season. "I am just trying to do everything that I can to win," the member of the Team BBC program stated. "I have been staying in the gym, working on my craft, playing hard, and remaining focused."
Mathis, well built and someone that doesn't shy away from physicality on the playing floor, has all of the tools to be a high-level recruit. He can find his own shot against a set defense within the half-court, set others up below the arc, finish through contact at the basket, and defend various spots on the playing floor.
Due to his versatility and strong talent base to build upon, a bevy of high-major schools have swung by in recent weeks to check in on the prospering junior. "Indiana, UCF, California, Providence, WVU, Pitt, Kansas State, NC State, Kansas, Virginia Tech, Villanova and Washington have all been in and have contacted me," Mathis stated. "But I probably speak the most with UCF, Cal, Providence, Virginia Tech, West Virginia, and Pitt."
Although he has only been able to visit Villanova this fall, a trip that took him to see the defending champs' midnight madness festivities, Mathis does have a decent idea for what he is looking for in a college. "I want a family environment and to have coaches that are going to push me both on and off the court," the John Carroll product stated.
Entering the winter months and having already eclipsed 30 points twice this season, expect for greater eyes to be placed onto Montez Mathis and before sooner or later, for the 6-foot-4 junior to see his stock soar before his final year on the travel circuit kicks off.