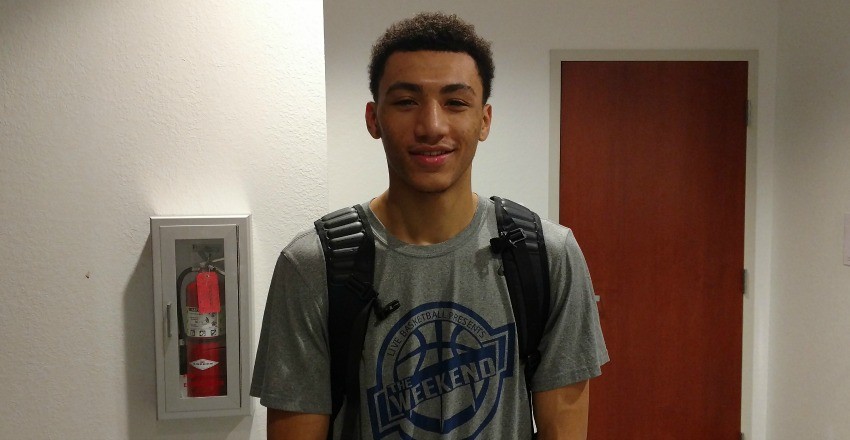 The City of Palms has become known as one of the primetime high school events in any given year. This past week's version brought another heightened platform to some of the very best throughout the land and it was Jahvon Quinerly that took the stage by storm. A 6-foot lead guard out of New Jersey, Quinerly put himself squarely into the mix for five-star consideration thanks to his play in Fort Myers.
A well-rounded lead guard that has an elite feel and a tremendous pace for the game in the backcourt, Quinerly went head-to-toe with some of the best teams and ballplayers that the nation has to show for itself. Not only did he help his Hudson Catholic bunch come away with a few wins, he also showcased major improvements and even better value for the years ahead.
One of the top performers at the event this past week, Quinerly's masterful outing against five-star senior Collin Sexton was the game that the Jersey native has been waiting for. He shook off the Alabama signee by playing his own game and not getting sped up by the pressure that the long-armed and exuberant Sexton brought. Finishing with 23 points as he made over half of his field goal attempts, five rebounds, three assists, and three steals, there are not many more as skilled, polished, and sturdy as the top-50 junior guard.
Upon the completion of his second game in the Sunshine State, the Hudson Catholic star spoke on what has helped him get to the next level. "Weight room, weight room, weight room; I knew I had to get stronger," Quinerly said before speaking on his new role. "I am a laid back and lead by example type but I am trying to get more vocal in talking with my guys."
Thanks to his progressions, a number of programs have taken notice. "Arizona, Stanford, Virginia, Cal, Ohio State, Villanova, and Seton Hall," Quinerly noted as the schools he speaks the most often with. However, it is a new program, a school nearby that dispatched an assistant to watch the Jersey native over the weekend that has piqued his interest. "When they offered me, the first thing I thought of was Tyler Ennis," Quinerly said about his recent offer from Syracuse. "We have a good relationship so when they offered he hit me up and talked good things about them."
Hoping to visit Stanford and Arizona once the high school season finishes up, look for Quinerly to keep improving as he continues to track as one of the top point guards in his class nationally and a capable five-star prospect within his own right.