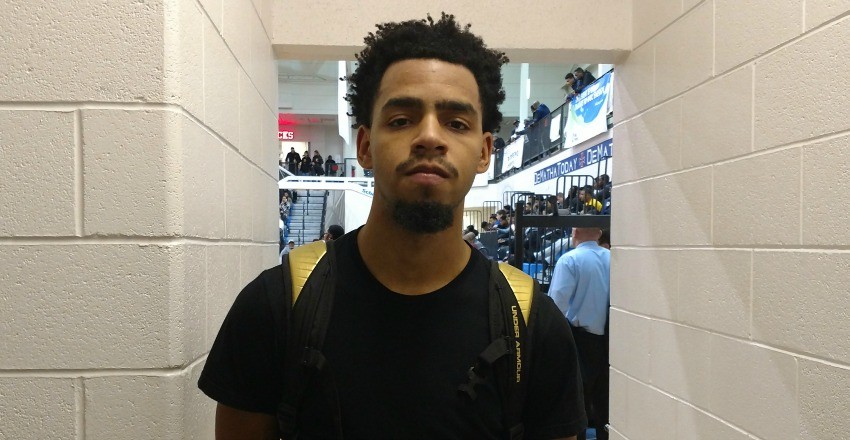 Entering the winter months and with their being a limited amount of high-major prospects still left on the board out of the 2017 class, programs have begun to exhaust every avenue possible in finding capable producers for next season. Eric Ayala has entered the forefront for some as the 6-foot-3 guard has been granted the opportunity to possibly reclass, thus making him a high-major priority for those throughout the east coast and beyond.
Running with the talented Putnam Science Academy program for the second straight year, the Delaware native has settled in nicely in the backcourt displaying major versatility out top. At one time, the junior was primarily seen as a score-first option that would struggle to convert with efficiency in the half-court setting. However, Ayala displayed major progressions during his time at the National Hoops Festival over the weekend as he slid onto the ball and made plays for other without turning the ball over much.
Seeing that Ayala had reclassed a few years back as he was originally a member of the 2017 class, guard options have dwindled in recent weeks and schools have begun to recruit him as both a senior and as a junior. "The opportunity to go 2017 was given to me," Ayala stated. "I am open to everything right now. I have just been trying to take it one day at a time."
A tough-nosed guard that can score the ball from all three levels on the floor but has also gained greater athleticism and a better set of handles recently, some of the top schools off of the east coast have taken notice. "Maryland, Miami, Providence, Villanova, UConn, and Syracuse are the schools I speak the most with," the top-100 junior stated.
After missing on Quade Green, a top-25 lead guard that committed to Kentucky last month, Syracuse has begun to ramp up their attention in the playmaking guard. "They weren't recruiting point guards as much until they didn't get Quade," Ayala stated. "They've begun to really start showing me some love lately, though. Me and G-Mac (Gerry McNamara) always have had a good relationship. I'm going to try and take an unofficial visit when they play against Miami next month."
Whether Ayala will make the final opt in to the 2017 class or not will be decided in the springtime after he completes he takes the SAT and ACT exams. Regardless, it seems that remaining within the current junior class is the most likely destination for Ayala, though the uptick in attention for the tough, active, and improving guard out of the Putnam Science Academy could throw a wrench into the mix.