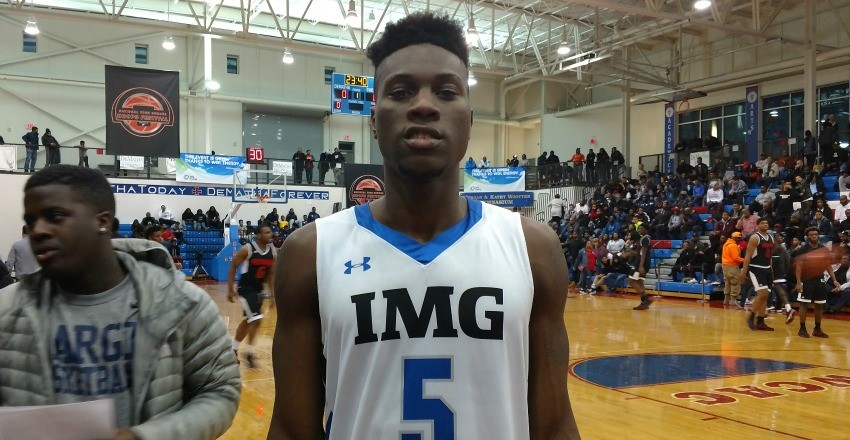 One of the hardest playing big men from not just the 2018 class, but in all of America, Emmitt Williams continues to prove many of the naysayers wrong with his continued dominance on the playing floor. A 6-foot-7 power forward that has been nitpicked in the past for his lacking size at the power forward position, the Sunshine State native took to the floor at the National Hoops Festival and, once again, was a clear standout from the weekend spent in the nation's capital.
Standing just 6-foot-7 but boasting a 7-foot wingspan, Williams repeatedly owned the interior for his IMG Academy basketball squad this past weekend. Despite not getting the attention that he might be receiving elsewhere thanks to playing next to five-star lead guard Trevon Duval, Florida signee Isaiah Stokes, and top-25 junior forward Silvio DeSousa, it is Williams that may be the most consistently productive of the elite bunch.
Someone that doesn't shy away from wearing his emotions on his sleeve, the product of the Each 1 Tech 1 program has an entertaining flair to his game but in doing so, is capable of putting up major numbers on the final stat sheet. On Sunday, Williams took home MVP honors thanks to a 24 point, five rebound, and a four block outing.
While the top-50 junior has been primarily seen as a producer off of his energy levels, Williams showed an evolving skillset in DC as he hit on a three-point jumper in both of his outings, has perfected the baby hook over his left shoulder, and looks to have become a much better passer out of the low and mid-post settings on the floor, progressions that Williams spoke on following the completion of his games. "I get a lot of Amare Stoudemire comparisons but I have been watching a lot of Rudy Gay, too," Williams stated. "Everyone thinks that all I do is dunk so I just want to show that I can shoot it a little bit and can handle it."
A number of top flight programs would love to have the IMG standout once he graduates, however the 2018 big man still has kept his recruitment on the backburner. "Everybody has been calling me but IMG just keeps me so busy," the explosive finisher said. "I will probably look at things in the spring but I still have a little while longer before I take much of a look into it all."
At the National Hoops Festival, Miami head coach Jim Larranaga and an assistant along with Iowa State, Texas A&M, and a slew of others kept tabs on the junior standout. Others like Florida and LSU remain in the hunt and while things are still in the infancy stages with the Florida native, expect for Williams to become a priority recruit for the majority of the southern programs this summer.