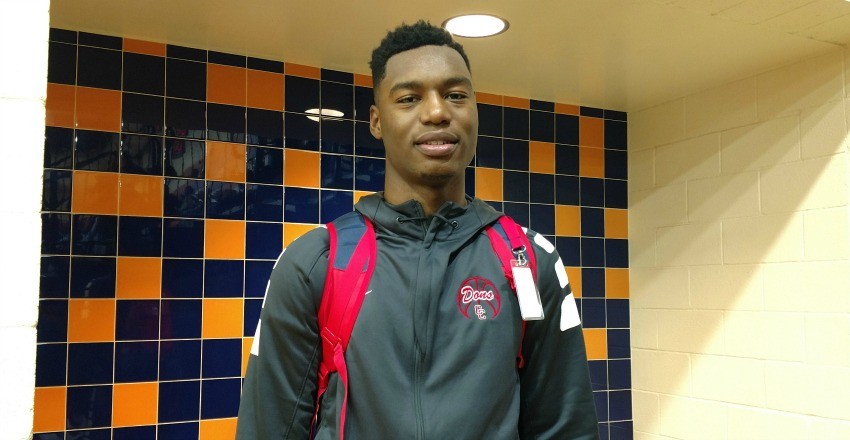 Facing off against a very talented Windward School squad, a team boasted by top tier 2018 forward Shareef O'Neal, the son of the one and only Shaq, Brandon McCoy didn't have his best of outings. However, it was impressive to see the near 7-footer remain active and engaged as a bunched up half-court defense stifled his Cathedral Catholic bunch for most of his outing on Friday.
One of the very best prospects still left on the board out of the 2017 class, Brandon McCoy has slowly but steadily risen up the rankings in recent years as he has cemented himself as a top-10 prospect in the current graduating class. Blessed with unreal length, exquisite hands, and impressive abilities around the basket, McCoy didn't have his best on tap to kick off the Tarkanian Classic, though there was still some bright spots to pull from.
Finishing with 15 points, eight rebounds, and six blocks, McCoy is someone that can be used all throughout the half-court setting. While his range on his jumper has yet to fully extend itself out to the 3-point arc, he is more than comfortable hitting the high elbow attempt, an area on the floor that the Midwest native works best.
A triple-threat option from 15-feet and in, McCoy brought us up to speed with how things are going early on in the year for him and his squad. "Right now, we're two and two. We just have to play harder and take our time with things," the five-star center stated.
Despite being hurdled by a lower body injury in recent months, McCoy looks to now be settling in nicely. "I have just been working on my skill level and my post game," the Cathedral Catholic standout said. "I have been out for about six months so I have just been trying to rebound and block shots while I am out there."
On Friday evening, assistant coaches from UNLV, Oregon, USC and San Diego State were spotted throughout the gym as McCoy addressed the elephant in the room. "Right now, I'm just focusing on my game and my team," the San Diego transplant said. "I will probably make my decision in the spring after my basketball season finishes up."
Having already visited Arizona, Michigan State, UNLV and Oregon, it is the local San Diego State program that rounds out his final five as the only program that he has not taken an official to. McCoy did go on to speak about taking his last of his five allotted to either SDSU, Maryland, or USC, or he could continue on with the process and decide when the time permits. Regardless, expect for the recruitment of McCoy to remain on the same plot line and that for nothing to drastically change within the next several weeks.