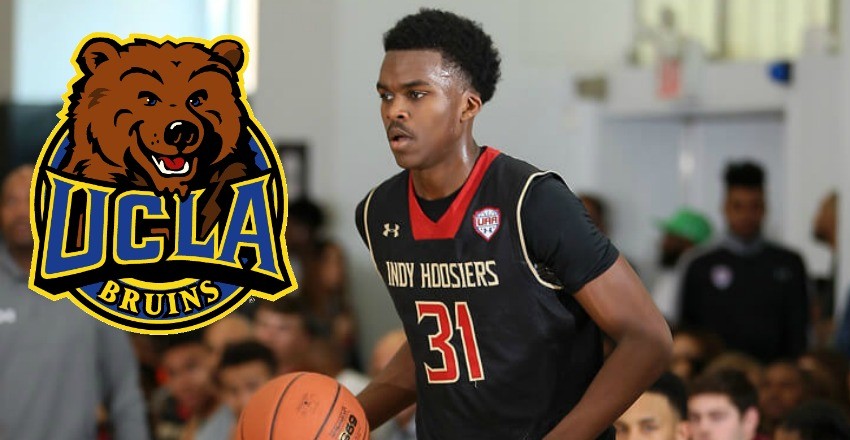 The rich have gotten a bit richer during the early signing period as Duke and Kentucky both landed five-star talent. On Sunday, UCLA, already boasting a top-five recruiting class, picked up the commitment of its fourth top-60 recruit and its first five-star pick-up of the fall in Kris Wilkes.
A native of Indianapolis, Indiana, Wilkes was a heavily followed and wanted man by practically every top flight Midwest college basketball program during his underclassmen years. A 6-foot-8, slender but skilled and light footed forward, as Wilkes improved, so did his college recruitment where things went national a year or two again as others such as UConn, Washington, and UCLA picked up the attention with the top-25 recruit.
Down to a final three of the Bruins, Indiana, and Illinois, the Hoosiers were the perceived favorite following the travel season this past July. However, with inroads to the state thanks to former IU star Steve Alford, who is at the helm in Westwood, and the lure to play out in the California sun and in a high powered offense, enabled for the Bruins to win out for the services of the high upside and versatile forward known as Kris Wilkes.
While UCLA already holds commitments from Jalen Hill, Cody Riley, and LiAngelo Ball in the frontcourt, Wilkes is a change of pace compared to the other three. The most skilled of his future teammates, the Indiana native is someone that can be used at either forward spot where he can abuse the mismatch that he shows in taking his man off the bounce from the perimeter, or posting up on the low-block. He does have to get stronger but it is his mid-range game and Dirk Nowitzki-like stepback jumper that has made him such an efficient producer within the half-court setting.
In UAA play this past summer with his Indy Hoosiers squad, Wilkes did a bit of everything. Averaging over 18 points, six rebounds, and an assist and steal per game, while improving his strength and outside jumper are in need of work, the upside and immediate production out of the North Central High guard should expected next year at the Pac 12 program.
The fifth commitment for the Bruins, Wilkes joins Hill, Riley, and Ball in the frontcourt, where the class is topped off by the talents of top-50 lead guard Jaylen Hands. Altogether, the five-man class is one of the best not just within the Pac 12, but better yet, in all of America as it slides into the second overall spot behind fellow league rival Arizona.