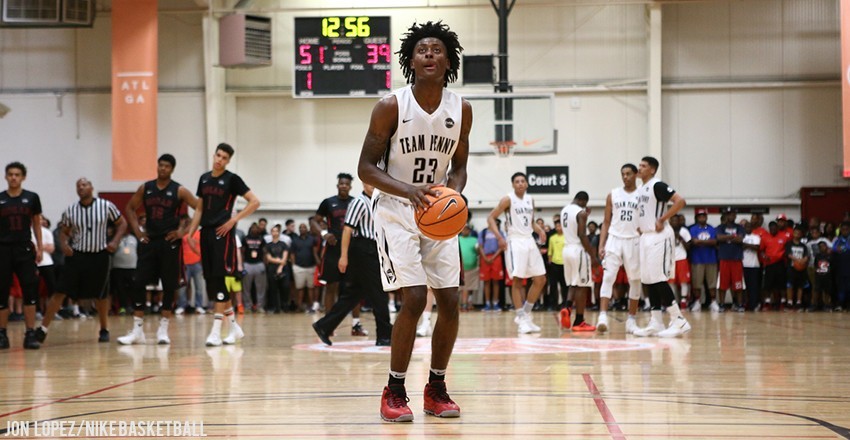 2017 Huntsville (AL) Mae Jemison wing John Petty put the finishing touches on a monumental recruiting class at Alabama, as the 6-foot-5 wing announced his intent to sign with the Crimson Tide at halftime of his first game Thursday evening.
"I prayed about it and that's where God led me," Petty told HoopSeen.com following his 35-point performance to open his senior campaign. "Alabama is rolling some players in there. I love it."
Petty gives Alabama head coach Avery Johnson an instant impact on the perimeter with his shooting and scoring ability. During his high school career, the senior has displayed an efficient mid-range game and long range on his shot, while also providing highlight reel plays at the rim.
Petty informed the Alabama staff of his decision Tuesday evening.
"Coach [Avery] Johnson was ecstatic. He told me he can't wait to have me on campus."
Since being hired at Alabama, Johnson and assistant coach Antoine Pettway made Petty one of their top priorities. In the end, the staff's determination paid off.
Petty's commitment comes on the heels of top 10 point guard Collin Sexton's announcement to the Crimson Tide on ESPNU.
With Petty and Sexton now in play, Alabama boasts one of the top recruiting classes in the country. The talented duo joins Herb Jones, Alex Reese, and Galin Smith. 
"We're the Fab Five baby, let's get it," Petty said enthusiastically when asked about the Tide's incoming class.
Petty, ranked No. 27 in the 2017 HoopSeen 125, chose the Crimson Tide over Kentucky.