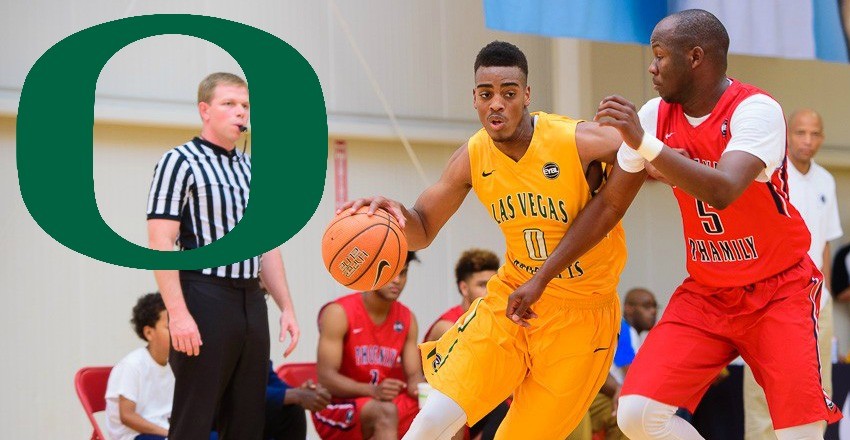 One of the most versatile prospects in all of high school basketball, if not the premium for versatility across the land, Troy Brown called it a day with his college recruitment on Monday. The 6-foot-6 wing that names the city of Las Vegas as his home, gave his verbal commitment to Dana Altman and the Oregon Ducks basketball program.
If you have stayed in the loop with the college basketball recruiting biz these last few years, Brown is no stranger to you. He entered the high school ranks being labeled, by some, as the best prospect within his 2017 recruiting class. While others have passed him up along the way, the Vegas native seemed to have found his identity this past summer.
While others had hoped that Brown would flourish in a point guard role, thus making him super unique due to his size, length, as he sports a 6-foot-10 wingspan, and ball skills, where the Centennial High product has flourished in recent months is in his ability to wear many hats for his squad on the perimeter.
A fluid athlete that can playmake off of the drive to the basket, defend practically every spot on the floor outside of the center position, and rebound the ball at a high rate, Brown was one of the primary reasons for his USA U17 bunch securing such an easy gold medal at the World Championships in Spain this past summer.
On the Nike circuit, the five-star senior displayed just how vast his production capabilities really are. Averaging near 16 points, nine rebounds, and three assists per game, while coming away with over a steal per contest, the egoless mentality and hard playing nature from Brown will never be in question. Sure, he does have to become a better shooter of the ball where he made just over a fourth of his perimeter jumper attempts, he still was able to knock down nearly 80-percent of his shots at the line, a number that gives insight on Brown's ability to make shots during live ball action down the road.
Entering the Pac 12 ranks as one of the top recruits across the land, Oregon was able to defeat the likes of Georgetown, Kansas, Cal and Alabama for the versatile prospect's commitment. Another ballplayer that excelled nicely within the conference before heading to an excellent NBA career, there can be a lot of comparisons made between Brown and current Golden State Warrior wing Andre Iguodala. While each could be better jump shooters of the ball, both are super versatile ballplayers that can play various spots on the floor and produce with efficiency with whatever role they are put into.
The third commitment in the 2017 recruiting class for Oregon, Brown joins another ultra-versatile prospect in Abu Kigab, along with elite athlete and Texas native Victor Bailey, giving the Ducks the fourth best class within the Pac 12 Conference entering the early signing period this week.