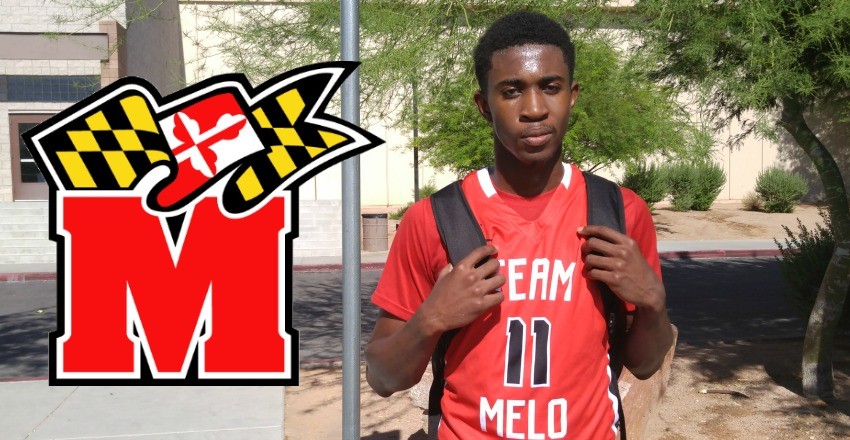 One of the top breakout performers from the travel season, Darryl Morsell quickly grabbed ahold of offers from some of the top programs across the eastern seaboard. After narrowing his college list to a group of five, then to a final three, the talented playmaker made it official on Wednesday by committing to the University of Maryland.
A top-60 recruit with a bevy of upside and potential in the backcourt, Morsell is just now seeing his hard work pay off. Blessed with great size in the backcourt and the ability to practically play all three spots on the perimeter, the 6-foot-4 guard uses his exceptionally quick burst and major explosiveness to get past the first line of defense before then scoring off of under control pull-up jumpers, creating for others on drive and kick out passes, or finishing at the basket with electric dunks.
Morsell, one of the best recruits to not play on shoe circuit this past summer as he led the way for his Team Melo program, is a native of the state that takes great pride in playing for it. "It's a blessing every time that I step on the court; it will mean something to me," Morsell stated about representing his home state of Maryland.
Looking ahead and with Melo Trimble, the Terps' star guard more than likely to head to the pro ranks next year follow his junior campaign, the Mount St. Joseph product spoke on his potential in the backcourt and how he might be used. "Coach (Mark) Turgeon thinks of me as a playmaker. He wants to allow me to play my game and make plays getting downhill," the top-60 recruit noted on his future abilities at the Big 10 program.
Others such as Dayton and Notre Dame remained in the hunt until the final hour for the Morsell, although the pitch of the local program was too much to decline. "Maryland is home. I have a built a great relationship with the players and coaches, and my gut feeling is telling me that's where I belong," the Team Melo product stated.  "I love the facilities, the school, and the feel of it all where I can thrive in Coach Turgeon's system."
For Maryland fans, a comparison of capable Louisville breakout Donovan Mitchell can be made between the two. Both exude great size and explosiveness in the backcourt, each has improved at a continual rate, and each can play both on and off the ball.
The second commitment in the 2017 class, Morsell joins fellow top-100 big man recruit Bruno Fernando in creating a strong, two-man tandem heading into the early signing period next week.