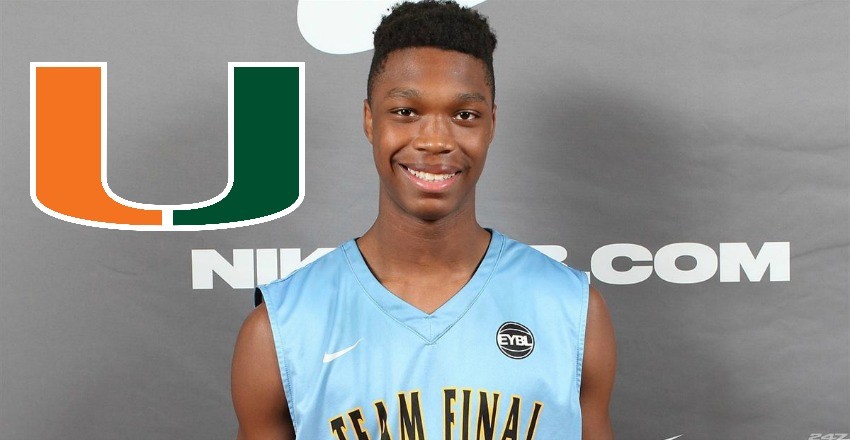 In the beginning, all things pointed to Lonnie Walker playing out his college career at Villanova. As the process moved onwards, others such as Arizona, Kentucky, and Syracuse jumped into the mix. Through it all though, Miami remained in pursuit of the five-star talent, all of which added up today in the commitment of the five-star talent.
A graceful and explosive athlete with immense upside and talent at his fingertips, Lonnie Walker is what everyone looks for in a top of the line shooting guard recruit. Capable of taking over the game via the jump shot but also a prolific finisher at the basket, Walker is one of the most polished and versatile scorers that there is within the 2017 recruiting class.
Walker, a well followed and wanted man since suiting up for his Reading High School program three years ago, the 6-foot-4 shooting guards brings tons of upside, versatility in the backcourt, and a go-to mentality when a bucket is needed. The Hurricanes have raided the east coast in the past and with the looks of it, will continue to do so. After landing the signatures of Deng Gak of New Jersey and Chris Lykes of Washington, DC during the early signing period this fall, the Pennsylvania native becomes the next northerner to call the U his home.
What might Miami be getting in Walker? While he can go through spurts of lacking production where consistency is needed with his game, the star power from the Team Final star is evident. On the Nike circuit this past summer, the top-25 recruit averaged over 16 points off of 40-percent shooting from beyond the arc, along with nearly five rebounds, three assists, and a steal per contest. Throw in his athleticism and quick twitch abilities and Jim Larranaga now has picked up the highest rated recruit throughout his coaching tenure.
The fourth commitment in the 2017 class, Walker joins the already mentioned Lykes and Gak, along with New Zealand native Sam Waardenburg, together creating a top-25 recruiting class and one that brings much versatility, talent, and instant production to Coral Gables next year.