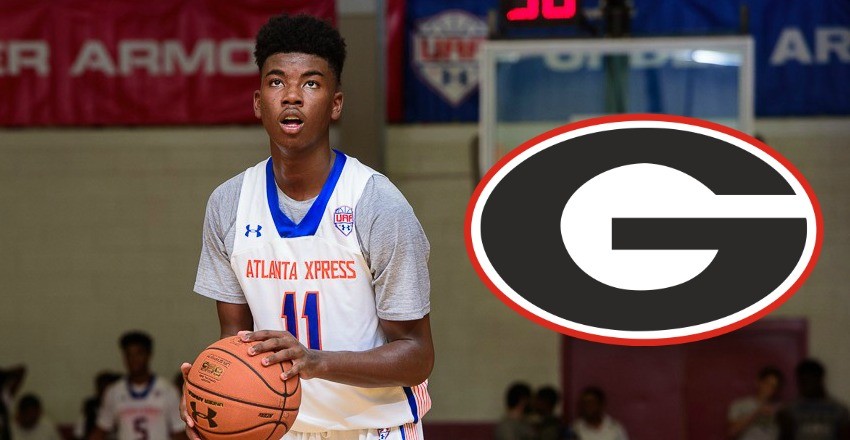 Things have been a bit silent for the Georgia Bulldogs on the recruiting trail this fall. Currently the only SEC program without a commitment from a 2017 class member, this is no more. Rayshaun Hammonds, a top-50 recruit and one of the best from the Peach State, announced his plans to attend the Athens based institution next fall.
A good sized small forward standing at 6-foot-7 and a prospect with a bevy of upside but already current day production, Hammonds is a giant score for Mark Fox and his program. While the transition process for the in-state recruit was a bit rough early on as he made the move from the power forward spot to the small forward position, this past summer, things clicked and in an excellent way.
While at one time Hammonds was more of a tweener forward that had struggled with his true identity on the hardwood, the Norcross High product reworked his game by bettering his ball skills, adding consistency to his jump shot, and working on his frame as he has become a much better athlete at the basket compared to his prior years.
Beating out the likes of Western Kentucky, Texas, Memphis, and UConn for his signature, Hammonds will be expected to contribute from day one in Athens. He is the type of guy that is tough enough to be used around the basket within the half-court setting, yet can abuse the mismatch that he presents as he can facilitate an offense and also knock down the open jumper.
Running on the Nike circuit this past summer, the Alabama Challenge star did some major damage on the final stat sheet posting averages of over 18 points, eight rebounds, and nearly two steals and two assists per game. While he does still have to improve his perimeter jumper, he is an efficient scorer from the field making over 55-percent of his tries.
The first commitment in the 2017 class for the Bulldogs, despite missing on a few of its prior targets, Hammonds was the guy that Fox and his staff have wanted for some time now. They remain in pursuit of a few more pieces this fall as they're in the mix for the likes of Nic Claxton, Michael Okauru, and Jay Jay Chandler.