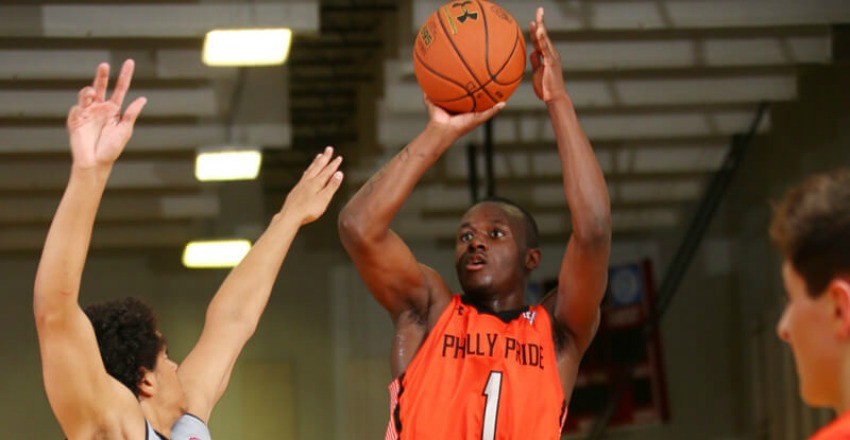 Entering the final few days of the early signing period, there are still a few commitments left to be completed before Thursday morning rolls around. Tomorrow, David Beatty, a top-100 guard out of Imhotep Charter School in Philadelphia, will make his college decision. Down to a final four of schools, Beatty broke down his polished list before he announces on Monday evening.
One of the toughest guards from the 2017 graduating class, Beatty has been a coveted name throughout his time on the high school and travel circuits. A native of Philadelphia that completed a year St. Benedict's Prep in New Jersey before returning back to his home city this fall, programs have continued to heavily track the 6-foot-3 recruit regardless of his place of schooling.
Someone that has improved his shot making skills in recent months and has become a much better playmaker within the half-court setting, Beatty is the type of guard that can play practically all three spots on the perimeter and on either end of the court. A versatile defender that might be one of the top five on-ball defenders nationally, consistent effort and a hardworking mentality is always in tow with the Philly Pride travel program product.
Planning to announce his college commitment on Monday at 6 p.m., Beatty broke down his final four schools, a list that is made up of Indiana, Maryland, South Carolina, and Georgetown.
Indiana
"(Coach) Tom Crean is a great coach and their program develops guards for the next level."
Maryland
"The school has a great atmosphere, it's a college town, and they are on a big platform where I could reach the next level at."
South Carolina
"Their coaching staff is good and they know what they want and what they're doing; plus, it's the SEC so its bright lights every night."
Georgetown
"It has a family atmosphere on the campus, all the coaches have experience with the game and they are a great academic school."
Looking at a variety of college programs with varying backgrounds and affiliations, it would seem that wherever Beatty does select on Monday evening, that they should expect an immediate energy giver that can wear many hats in the backcourt while giving some major minutes as a lockdown defender.