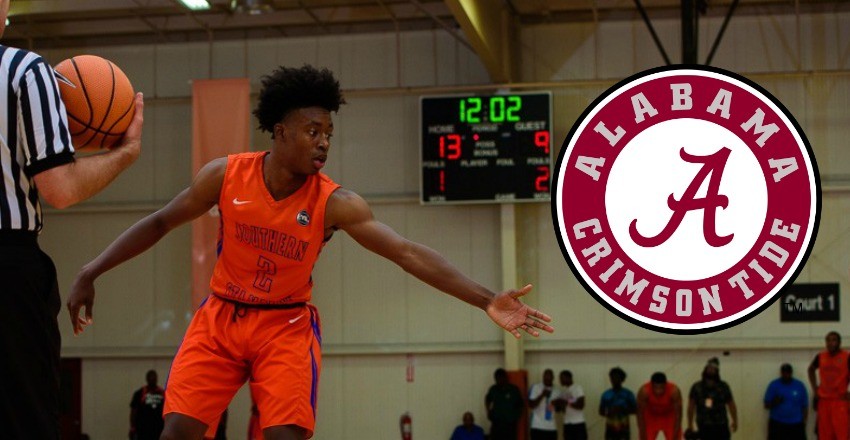 One of the top breakout performers from the summer months, if not the biggest of them all, things have come to an end for Collin Sexton. A 6-foot-2 lead guard out of Georgia, the prolific scorer of the basketball saw his recruitment soar in recent months but today, Sexton made it official by committing to the University of Alabama.
Entering his junior high school season at Pebblebrook High School last fall, Sexton had received a few regional high-major offers. He began his story shortly thereafter in grabbing ahold of some high-level offers before then exploding on the travel circuit this past summer running with the Southern Stampede program. However, it was Alabama that was one of the first to get involved and it is the SEC gang that is the last program standing for the five-star guard.
Beating out the likes of NC State, Georgia Tech, and Kansas for his signature, the work that Avery Johnson has done since taking over in Tuscaloosa is nothing short of remarkable. While Nick Saban and his staff on the football side get most of the dues at Alabama, it is the basketball program that is beginning to pick up some traction in attaining some of the top prospects nationally, just as well. In a matter of 24 months at the helm, not including the one time commitment from 2016 wing Terrance Ferguson, the Tide have secured the talents of four top-125 recruits.
Sexton, one of the most entertaining prospects in all of the land, dominated the Nike EYBL circuit this past summer leading the entire league in scoring by over eight points per game as he averaged close to 31 points and was able to get to the foul line by more than double his closest competitor, creating massive fear whenever he decided he wanted to get to the basket, which tended to happen more times than not. Now, learning the appropriate shot to take and with decision-making skills in need of sprucing up, the fiery, competitive nature and two-way production abilities from the Pebblebrook High star is some of the best that you're going to find, hence his claim of the MVP trophy at this past year's World Championships in Spain playing with the United States under-17 squad.
The fourth commitment in the 2017 class, Sexton will become the face of the program from day one. He will be joined with plenty of help in the frontcourt thanks to the signings of Galin Smith along with top-125 recruits Herb Jones and Alex Reese. There is even more promise on the horizon as John Petty, a top-30 wing from the state, plans on committing this evening as the Tide may have the upper-hand in landing the scoring piece which would give the SEC program a top-five class nationally.