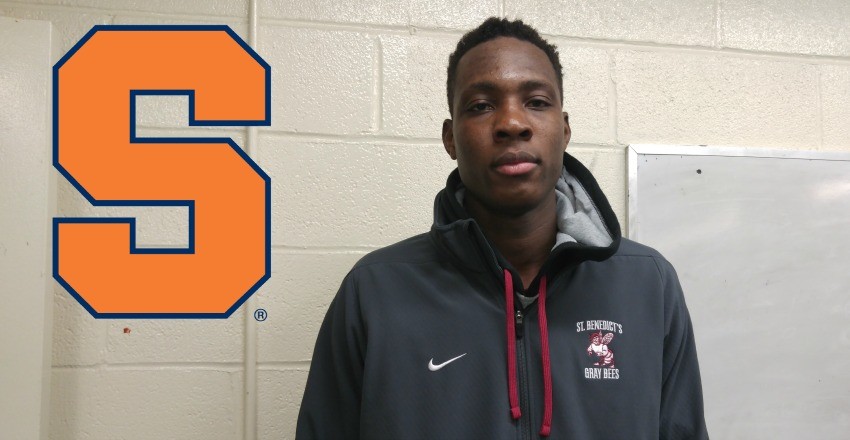 Things didn't go as planned for Syracuse over the weekend as the Orange missed out on its top lead guard recruit, Quade Green. All was not lost as the ACC bunch quickly turned around and solidified its frontcourt for the years ahead thanks to the commitment of Bourama Sidibe.
A 6-foot-10 center out of Mali that is taking a prep year at St. Benedict's in New Jersey, Sidibe has bettered his game seemingly every step of the way. At one point in time, the top-125 recruit had been thought of as a raw, rim-running center that primarily scored off of put-backs and drop off finishes. Now, Sidibe can be someone that has an offense run through him on the low-post.
Whenever the game speeds, Sidibe is still best in his comfort zone as a producer out in the open floor and in cleaning up the weakside glass due to his quality instincts and length on the glass. However, in the college game, things slow down more than not and with it, the Mali native can produce just the same. He has developed a set of counter moves with his back to the basket, can score over either shoulder in the lane, is an underrated passer prior to the double team, and has even implemented a mid-range jumper of sorts.
Throw in the well-known 2-3 half-court zone implored in Syracuse and Sidibe should be a pest on both sides of the ball. He has great length and a motor in covering guard when placed on the outsides of the defensive set, but the rim protecting skills in clogging things up in the middle of it.
Needing to replace DaJuan Coleman at the 5-spot, Sidibe should be seen as a step-up for the Orange. He should be able to come in and learn the ropes from Taurean Thompson and Pascal Chukwu as 15-foot and in producers while giving quality minutes when needed.
The second commitment from a 2017 class member for the 'Cuse, Sidibe joins top-50 forward O'Shae Brissett in bringing immediate value and even better upside to Jim Boeheim's basketball program. A guard recruit is still in need where the Orange continue to track Hamidou Diallo, a five-star prospect that Boeheim just got done watching compete this past weekend at the National Prep Showcase in Connecticut.