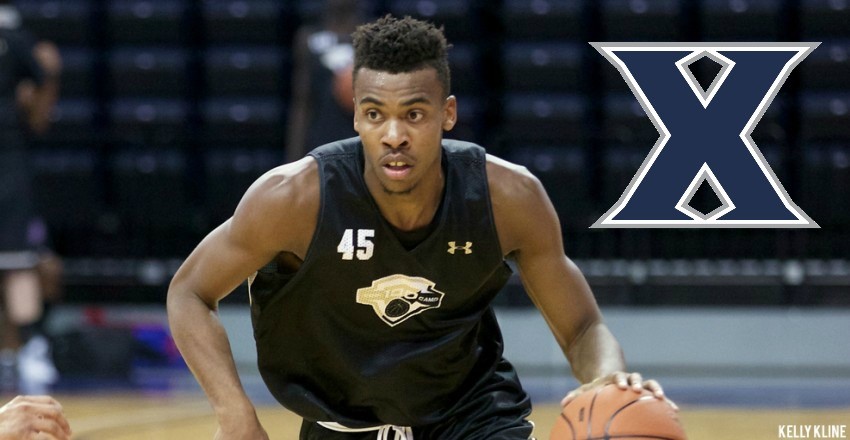 Having already put together one of the top classes in all of the land, the 2017 crop got that much better today as Xavier landed the talents of top-30 guard Paul Scruggs. A jumbo sized primary guard that has revamped his jumper in recent months, the Indiana native gives Chris Mack's program quite possibly the best class in the school's history.
In need of replenishing its cupboard of talent upon the completion of the upcoming college basketball season, the staff in Cincinnati went to work early and because of it, have come up with giant snags at each spot on the floor. The most recent coming in the form of Paul Scruggs, a 6-foot-3 guard that recently transferred to Prolific Prep in California, the same program that now Kansas Jayhawks freshman Josh Jackson graduated from.
Beating out the likes of Indiana, UConn, Washington, and Michigan State for the guard's commitment, Scruggs is the likely candidate to replace Edmond Sumner, Xavier's sophomore star at the lead guard spot that will more than likely enter the NBA Draft in the spring.
Capable of playing either guard spot, Scruggs is a versatile piece that is best used as a playmaker on the ball. Sporting similar shades to Rajon Rondo at the lead guard spot, the top-30 guard sports a college ready physique, toughness, and explosiveness at the basket. While he does need to continue to add consistency to his perimeter jumper, Scruggs is a guard that is best creating for others and scoring the basketball from 15-feet and in.
Running with the Indy Hoosiers bunch on the UAA circuit this past summer, Scruggs made just 30-percent of his perimeter tries, though for a guard, converted on an impressive 53-percent of his field goal tries while getting to the foul line nearly five times per contest. Add in the fact that the Indianapolis native averaged over five rebounds, four assists, and a steal per contest and Scruggs is someone that can dabble in every piece on the end-game box score.
The fifth commitment in the 2017 class for Xavier, Scruggs becomes the third member of the 2017 HoopSeen Top-125 to verbal to the Big East program. Expect for Musketeers to remain on the hunt for another piece or two in the frontcourt as they are in the top three for top-15 forward Kris Wilkes and should be seen as a primary landing spot for budding big man Sterling Manley.