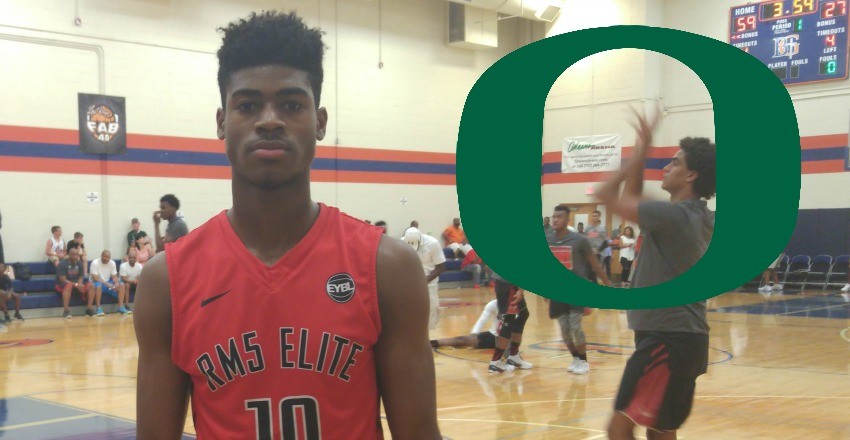 Oregon kicked the 2017 class off on a solid note Tuesday evening by landing the verbal commitment from VJ Bailey, a 6-foot-4 scoring guard from Texas. The top-100 guard recently visited the Pac 12 campus this past weekend and selected the Ducks over the like of Tulsa, Texas Tech, and Texas A&M.
One of the most explosive prospects from the south, the bloodlines have been in line for the Lone Star State native for some time now as his mother was an Olympic track athlete and father once suited up within the NFL ranks. However, Bailey is more than just a lethal leaper at the basket where he has improved his overall skillset and even further, his jumper from the mid-range region.
Running on the Nike EYBL circuit this past summer with the RM5 bunch, the good sized and sculpted off guard showed off a strong penchant for putting the ball through the basket. While he does have to solidify his perimeter jumper as he converted on less than 30-percent of his attempts, the McNeil High guard did chip in with nearly 17 points and four rebounds, showing off good instincts and activity in chasing after loose ball opportunities. Throw in Bailey's ability to defend various spots on the perimeter and it would seem that he should flourish within the up-tempo system that Dana Altman has become known for in throwing out onto the hardwood.
Selecting Oregon over several programs within his locale, Bailey spoke on what stood out about program based out of the northwest. "Me and my family just felt it was the best fit and that was the goal from the beginning: to go to the best fit," the Texas native stated.
The first commitment in the 2017 class for the Ducks, Bailey should fit in seamlessly out in Eugene. Needing to replace graduate transfer Dylan Ennis and with a potential early exile of Tyler Dorsey to the NBA Draft next spring, the McNeil High product is the jumbo type of guard that can produce on and off the basketball. Expect for a few others to follow suit as the Pac 12 bunch continues to track the likes of top-100 recruits Lindell Wigginton, Troy Brown, Abu Kigab, and Brandon McCoy in closing out the year in style.