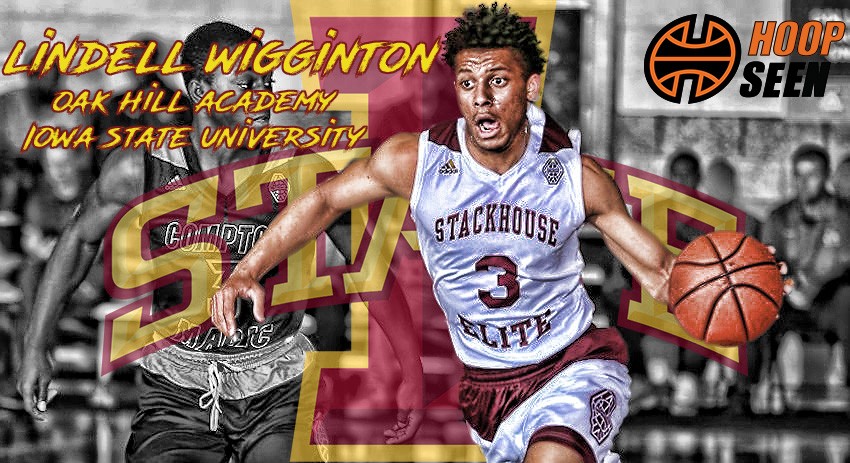 One of the most competitive and consistent producers in the backcourt is no longer on the board. Lindell Wigginton, a 6-foot-2 guard that will finish out his high school playing career this season at Oak Hill Academy in Virginia, has given his verbal commitment to Iowa State, becoming their third commitment within the past three weeks.
A strong bodied combo guard that can play both on and off the basketball, Wigginton has cut his teeth on his ability to score the basketball but also playmake within the half-court setting. While he hasn't always received the proper dues during his two year stint at the mighty Oak Hill Academy program, the Canadian guard is not one to underestimate.
Running on the adidas circuit the past few years with the Stackhouse Elite program, Wigginton was able to show off just how versatile and skilled he really is. Posting solid averages of over 16 points, four assists, and three rebounds this past summer, the Nova Scotia native is the type of guard that has excelled in past years under the tutelage of head coach Steve Prohm.
What should be expected out of Wigginton now that he is an Iowa State? The top-50 recruit is someone that is more than willing to step in from day one, compete on the biggest of stages, and help in scoring the basketball, defending either guard spot, and rebounding the ball when asked upon. His passing abilities and efficiency has improved as he has matured and when it comes to reliability, not many others are better in this particular department than the Oak Hill standout.
The third commitment in the 2017 class for the Cyclones, Wigginton joins another top-125 guard commit in Darius McNeill, creating a solid tandem in the backcourt in hopes of filling the massive hole left by soon to be graduate and All-American Monte Morris. Iowa State also holds a commitment from top-100 wing Terrence Lewis and expect for the Big 12 program to fight for at least one more in 2017 as they remain a favorite for interior producer and big man Isaiah Stokes.