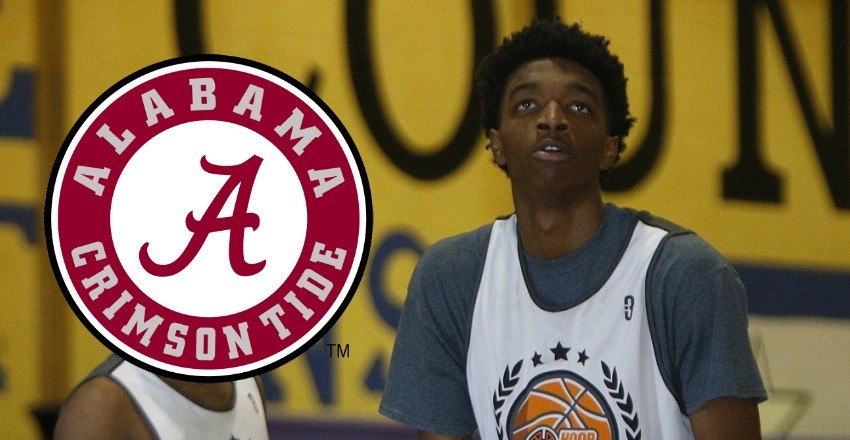 Growing up just outside Tuscaloosa, 2017 Moundville (AL) Hale County wing Herb Jones has always be familiar with the University of Alabama. On Thursday, that familiarity grew even stronger, as Jones made his verbal pledge to Alabama and head coach Avery Johnson.
"The reason I chose Alabama was mainly because of the coaching staff and their experience," Jones told HoopSeen.com. "Coach [Bob] Simon recruited Kris Dunn to Providence when he was coaching there. Coach [John] Pelphrey played at Kentucky. Coach [Antoine] Pettway helped turned the basketball program around here when he played. And Coach Avery was named the Coach of the Year in the NBA. All of the coaches are qualified and the history that they have makes too much sense."
When Jones was six years-old, he attended an Alabama basketball camp for kids. At the time, Pettway was named his group's coach while he played for the Tide. Now, the two will reunite and serve the same roles.
"Coach Pettway was recruiting one of my teammates at Sunshine when I was a freshmen. So when he came in, we were already familiar with each other. I really liked him. While I was growing up, he was like a role model for me. I'm excited that I get to play for him now."
A long, wiry wing, Jones really excelled during the July evaluation periods this summer. He displayed the ability to score from all three levels, defend multiple positions, and pass the basketball. His versatility and skill-set is something that intrigued many college programs around the Southeast. Johnson and his staff plan to hone that versatility and use it to their advantage.
"What really stood out to me about Alabama while they recruited me was that they didn't stick me to a certain position. One game I may play the point; the next game, I may move over and play the 2 or the 3. Coach Avery says being able to play and guard multiple positions is the easiest way to get to the NBA. He knows what it takes," Jones explained.
Jones chose Alabama over scholarship offers from Auburn, Florida, Georgia, and Georgia Tech. He is the first pledge for the Crimson Tide in the 2017 recruiting cycle. They are also the favorite to land Alex Reese, who announces his commitment later Thursday afternoon.
Several other high-profile players have been linked with Alabama over the past few months. Jones plans to start his recruiting efforts to lure other talented prospects to the Capstone.
"My first call is going to be to Collin Sexton. I have to talk to John Petty and Galin Smith, too."
"A lot of people have been talking about how good our recruiting class could be this year. That's another reason I wanted to go to Alabama. It's about staying home and helping change the culture of your home state."