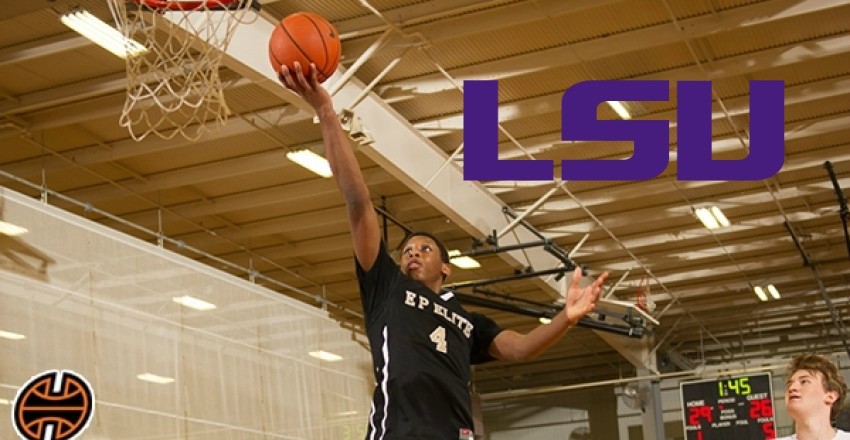 One of the hardest playing and toughest prospects from the south, Brandon Rachal didn't have to go too far from home in selecting his college choice. The 6-foot-6 small forward out of Louisiana called it a day with his recruitment on Wednesday by giving his verbal commitment to the in-state LSU basketball program.
A hard-nosed small forward that can play both wing spots on the floor along with the power forward position when need-be, Rachal has cut his teeth on just how hard he plays the game of basketball along with his competitive traits that he exudes. Adding ample amounts of muscle mass in recent months, Rachal, who has never been one to shy away from physicality on the hardwood, is a consistent presence and contributor each time he laces his shoes up.
While he does need to add further consistency to his perimeter jumper, Rachal is a major matchup issue on the floor as he can playmake when placed on the ball, but also is a fine athlete at the basket on downhill drives and scores. He does have a solid mid-range scoring game and is a very instinctive weakside rebounder of the ball. Where the Natchitoches Central High star is valued the greatest is on the defensive end as he can guard various spots without giving the foul or allowing for easy driving lanes to his opponent.
Although he didn't have the best of summers on the travel circuit with the EP4 Elite crew, Rachal, who is a big time athlete on the football gridiron, was still capable of putting together a solid stat line across the board. Averaging over 14 points and eight rebounds in less than 21 minutes of action, efficiency is never lacking from the Louisiana native. Sure, his shooting numbers from the foul line and behind the arc need some work but the energy levels and blue-collar mentality from the productive small forward is always in line.
The second commitment in the 2017 for Johnny Jones' program in Baton Rouge, Rachal joins fellow in-state and top-100 forward Galen Alexander in creating a dynamic, hard playing tandem that should allow for a variety of lineups to be thrown out onto the floor by the SEC bunch.