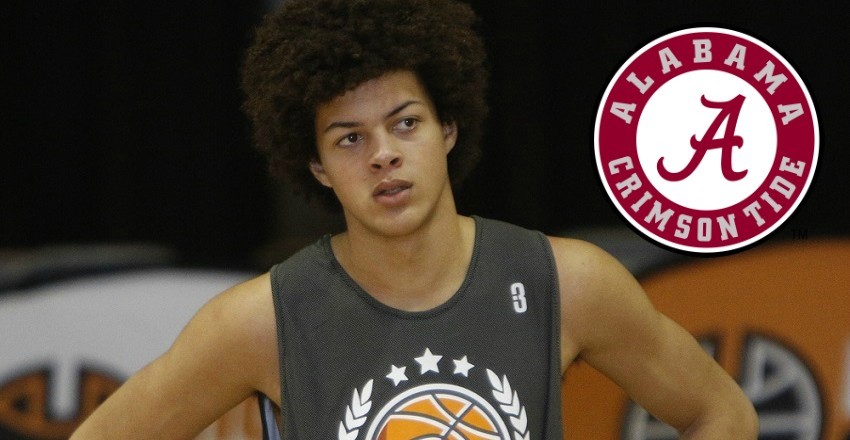 Just a few hours after receiving a commitment from top-100 prospect Herb Jones, Alabama received some more good news on Thursday afternoon, as 2017 Pelham (AL) power forward Alex Reese made his pledge to the Crimson Tide. 
"I like everything Alabama has to offer," Reese told HoopSeen.com. "It's such a home environment there for me. Playing for Coach [Avery] Johnson is a big deal, too. He has all the NBA connections and that will help get me where I want to be."
Despite being recruited by some of the top programs in the country, Reese opted to stay close to home for his collegiate years. At one time, he also considered Arizona State, Cincinnati, Georgia, and UAB. 
Since being hired at Alabama, Johnson and his staff quickly identified Reese as one of their primary targets for the 2017 class. The first day on the job, Johnson and assistant coach Antoine Pettway met with Reese and proved their point.
"Right after Coach Johnson was hired, he came to school to meet with me. He told me I was a priority and that meant a lot to me. When coaches were allowed to be out, Alabama was always there."
A talented 6-foot-9 power forward, Reese has a unique game with his skill-set and ability to play away from the basket. He is capable of knocking down shots from 3, as well as handling the basketball for long durations of time. Reese expects to use all of that when he steps on campus in Tuscaloosa.
"They're going to play me at the 4 with the role of Shannon Hale. The coaches have said I will be able to rebound the ball, bring it up the floor, and other stuff like that if needed. They are going to use my skills to help the team. Coach [John] Pelphrey has been telling me how he will help improve my post game, too," Reese explained.
Reese took an official visit to Alabama last weekend with Herb Jones, who committed earlier in the day. That visit was all he needed to see to ensure the Tide was the correct choice.
"I had been leaning to Alabama for a little bit and that visit just solidified it. I had a great time with the team and the coaches."
With Reese's commitment, Alabama has landed two HoopSeen125 commitments in one day, with Jones coming in at No. 79 and Reese following up at No. 121. 
However, that recruiting class is expected to improve even more, as Alabama is involved with a handful of other guys. Reese plans to start recruiting now.
"You better believe I'm going to be calling Collin Sexton and recruiting him. Roll Tide!"