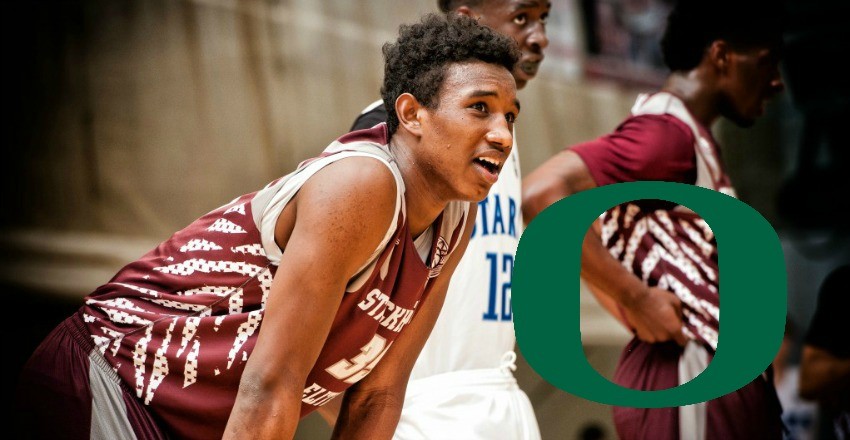 One of the most versatile prospects in all of the 2017 class, Abu Kigab has been one to pride himself on his abilities to wear many hats for his squad and on either end of the playing floor. It is due to his positional versatility that programs chased after him but today, the 6-foot-6 small forward made his verbal commitment to Oregon.
Finishing out his high school career at Prolific Prep in California, Kigab has never been one to rely on his scoring prowess in contributing to his team's success. Rather, it is his winning mentality, competitive mindset, and the ability to facilitate an offense on one end, but also defend more than one position on the other side of the ball that makes him such a valuable asset.
While programs like California, Illinois, and a slew of others tracked the native of Canada, Kigab just felt at home in Eugene and with the staff at the Pac 12 program. "It is a great organization first of all, great people, and they really care for their players," Kigab stated. "I really felt that love when I went there. They have great trainers, great facilitates, and everything that you'd need to succeed."
It is no secret of the success that natives of those from north of the border have had at Oregon and while it did play a part in his commitment, it was more about the 2017 recruit's friendship with the Ducks' star forward that won out. "I am really good friends with Dillon (Brooks). He treats me like his younger brother and he really helps me when I am in need, both on and off the floor," the tough-nosed wing said. "That made me really lean towards Oregon. We both play with a big chip on our shoulders."
The head coach at Oregon, Dana Altman, has become known for throwing out athletic, jumbo sized lineups onto the playing floor where each player can do a bit of everything. Due to Kigab's versatility and egoless mentality, the Canadian should fit in seamlessly. He will not be leaned on for his scoring abilities right away but he will be expected to rebound the basketball, act as a defensive stopper of sorts, and add solid energy from off of the bench.
The second commitment in the 2017 class with both coming within the past five days, Kigab joins elite athlete and strong scoring guard option VJ Bailey in creating a strong start to what could be a fine recruiting class for Oregon. Look for the Ducks to remain on the prowl for a few others this fall with the likes of Daejon Davis, Troy Brown, Lindell Wigginton, and Brandon McCoy.