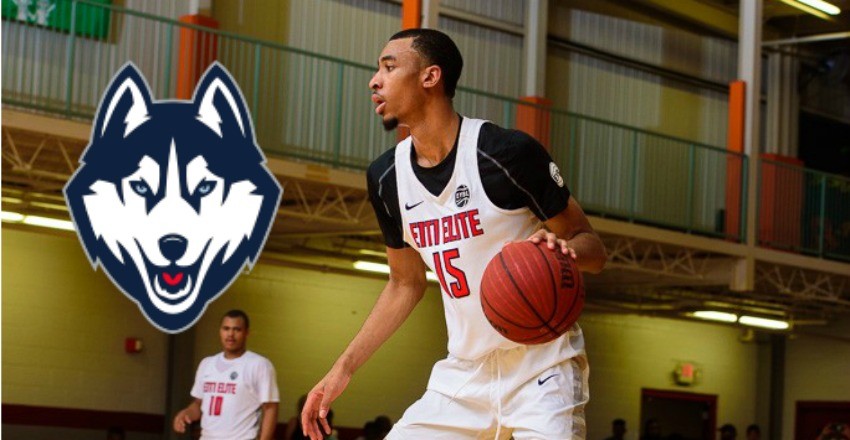 Having already put together the top class within the American Athletic Conference thus far, UConn made another splash in the form of Tyler Polley. A top-125 forward from the state of Florida, Polley should fit like a glove in Storrs due to his versatility and ball skills for his spot on the hardwood.
In past years, UConn has laid their hat on throwing out a mix and match forward that can shoot the ball, drive to the basket, but also playmake whenever the chance is given. Recently, it has been the likes of DeAndre Daniels and Hamilton that come to mind. Now, Tyler Polley could have the chance to follow in the footprints of the highly successful forwards that have succeeded at UConn.
Running with the Each 1 Teach 1 program the past few years on the Nike circuit, Polley had a breakout summer of sorts displaying just how good he is and furthermore, how great he can be. Playing alongside five-star forward Kevin Knox, Polley was able to hit on over half of his field goal attempts but also showed improvements in the toughness category. Although he does have some filling out to do, the Sagemont School star uses his length and quickness appropriately on the glass and in defending away from the basket.
Other such as Tennessee and Pitt heavily tracked the 6-foot-8 forward, though it was the relationship that he had with the crew in Storrs that won out. "I picked UConn because of the coaching staff and coach KO (Kevin Ollie)," he told HoopSeen. "I just feel like they made the difference and I felt more of a connection with them."
The third commitment in the 2017 class for UConn, Polley is someone that can be used at either forward position. He joins big man Josh Carlton in the frontcourt, along with top-60 guard Makai Ashton-Langford in cementing the Huskies case for the top spot within the AAC's class rankings.