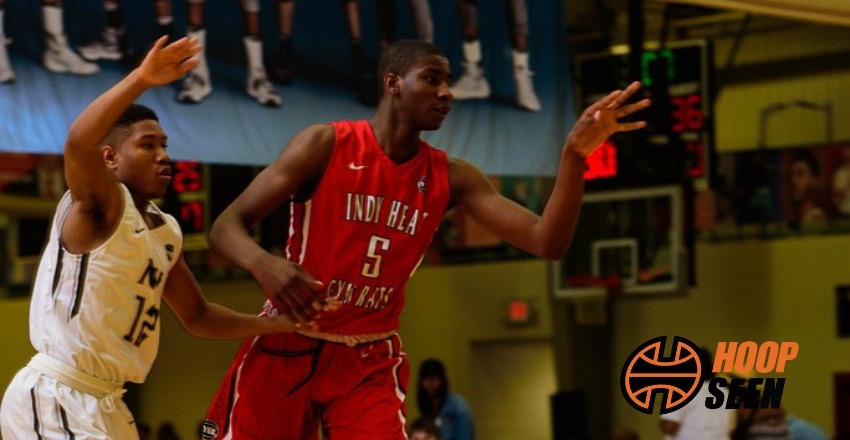 While things have started off on the slow end for the Michigan State Spartans, things began in a major way on Thursday. The Big 10 gang in East Lansing gained the talents of Jaren Jackson Jr., a 6-foot-10 power forward that brings limitless upside and versatility on the playing floor as he gave his verbal commitment to Tom Izzo and his program.
Kicking off the spring, Jaren Jackson was a relatively known name throughout the Midwest and the east coast, primarily because of his upside and the junior attached his last name. His father, Jaren Jackson, was a member of the great Georgetown teams in the 1980s and due to his former residency in the DMV region, programs like the Big East bunch and Maryland had gotten involved. However, others such as Purdue, Notre Dame, and several Big 10 schools did their best to attain the signature of the prospering big man. Upon a breakout summer campaign, that interest turned into a priority recruitment by all of those involved.
A member of the USA U17 team that won gold this past June in Spain, Jackson is ideal definition of a space 4-man that has flourished in today's NBA and college basketball world. Sporting a frame that should really develop in the coming years along with a 7-foot-4 wingspan, Jackson is someone that can be used all throughout the playing floor.
Running with the Spiece Indy Heat 17-under squad this past summer on the Nike EYBL circuit, the La Lumiere transfer was able to display his broad range of production skills. Coming up with nearly seven rebounds per game and over two blocks, the 6-foot-10 big man is more than capable of making a name for himself within the interior. However, he could be used similar to how Izzo created giant mismatches with Adreian Payne a few years back as Jackson finds most comfort in extending the defense off of the pick and pop perimeter jumper, a shot that he made nearly 44-percent of the time.
Sporting massive upside and heading to a program that has become known for developing under the radar talent, Jackson seems to be even more talented and polished earlier on compared to past Spartans that eventually made their way to the NBA Draft.
The first commitment in the 2017 class for Michigan State, Jackson gives the Big 10 juggernaut another top-25 pick-up as the Spartans remain in the mix for others including Xavier Tillman,  a 6-foot-8 center and a member of the HoopSeen Top-125.