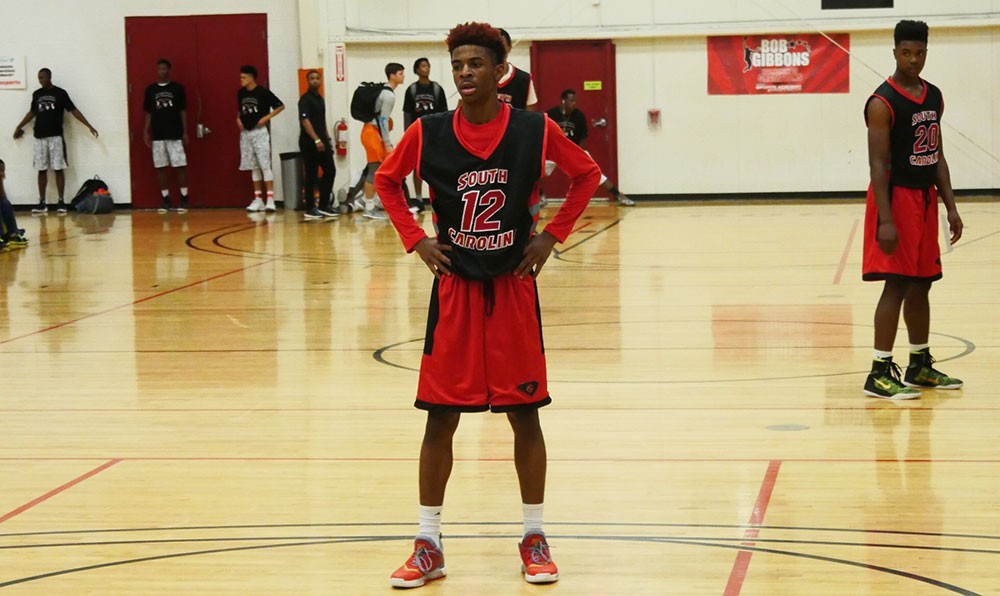 Murray State entered visit season with four available scholarships on the perimeter. After two weekends worth of visits, the Racers have made some notable noise on the recruiting trail. A week after landing 2017 Fairhope (AL) shooting guard Tevin Brown, Murray State double-dipped on Saturday with pledges from JUCO wing Leroy "Shaq" Buchanan and 2017 Sumpter (SC) Crestwood guard Temetrius "Ja" Morant.
Buchanan, a standout at Northeast Mississippi Community College, made his commitment late Friday afternoon during his official visit. With elite athleticism and the ability to play in traffic, he should fit right in with how the Racers have played in the past.
"I built an unbreakable bond with those guys. Murray State showed me a lot of love. I have faith in the coaches to help me make it to the NBA," Buchanan said of his commitment. 
Shortly after Buchanan's pledge, Morant (pictured above), a talented 6-foot-2 point guard from South Carolina, also made his surprise decision to choose the Racers.
"I went through the recruitment process and they were consistent when it came to truly wanting me. When I got to campus and they rolled out the red carpet, I was convinced it wasn't a visit. It was home," Morant told HoopSeen.com. "With the people I met from the school and the players, I was very comfortable in Murray State being the place I wanted to be."
Murray State has prided itself on the play of its point guards in recent years. With Isaiah Canaan and Cameron Payne as perfect examples, the program fit hand-in-hand with Morant's style of play. An explosive scorer with a quick first step, Morant could be the next great sleeper point guard for the Racers.
"I felt like it was the best fit for me. Murray State's style of play really suits me."
Murray State was able to beat a couple of high-major programs for Morant, including home state South Carolina. 
With Buchanan, Morant, and Tevin Brown making up their recruiting class, Murray State is off to a great start in 2017.