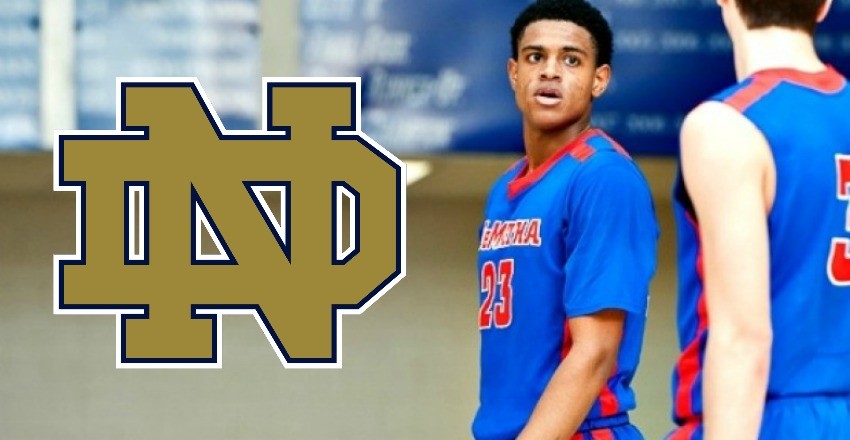 While the top programs throughout the ACC have gone to work early on in picking up top of the line talent, Notre Dame had been left out of the party. The primary word there being had as DJ Harvey, a top-60 wing prospect from the DMV, gave his verbal commitment to Mike Brey's program on Tuesday evening.
One of the best swingman recruits out of the 2017 class, Notre Dame has once again tapped back into the Washington, DC area and nabbed one of the best that the region has to offer. Harvey, a native of the state of Alabama that moved to the nation's capital before his ninth grade year, is a tremendous start for the Fighting Irish this fall.
Beating out the likes of Texas, Louisville, UConn, and Alabama for Harvey, Notre Dame may have found its defensive stopper in the 6-foot-6 wing. Capable of playing either spot off of the ball in the backcourt, the DeMatha Catholic star is no slouch on the offensive end. A fine athlete in his own right, Harvey works best in the mid-range area as he uses a quick first step and fine elevation in hitting on his polished pull-up jumper; his perimeter jumper does need some work are he was just a 30-percent shooter from beyond the arc during his time on the Nike EYBL circuit this past summer.
While his outside jumper does need some tinkering along with his stroke at the foul line, it is Harvey's size, length, and athleticism that should make him a lock-down defender. Throw in the fact that he is such a good slicer to the basket and surrounded with the Irish's typical shooters on the perimeter and the Team Takeover product is a fine change of pace type of wing in South Bend.
The first commitment in the 2017 class for Notre Dame, dues should be given to Mike Brey's staff. Rod Balanis, the lone leftover from last season's assistant coaching staff, gave his due diligence over the past two and a half years which paid major dividends for the ACC squad. Furthermore, Brey and Balanis' ties to the DeMatha Catholic program and their time spent in the DC area continues to pay off. Their most recent commit from the area being Martin Geben, a junior big man for the Irish, but beyond the skilled forward came in the likes of Jerian Grant and Eric Atkins, further displaying the success that the Irish have had in the talented area.
Next up for Brey's crew will be finding another guard and piece or two in the frontcourt. While they did strike out on top-100 big men Jaren Jackson and Luka Garza, they remain heavily entrenched with summer breakout Darryl Morsell along with a bevy of other frontcourt options this fall.