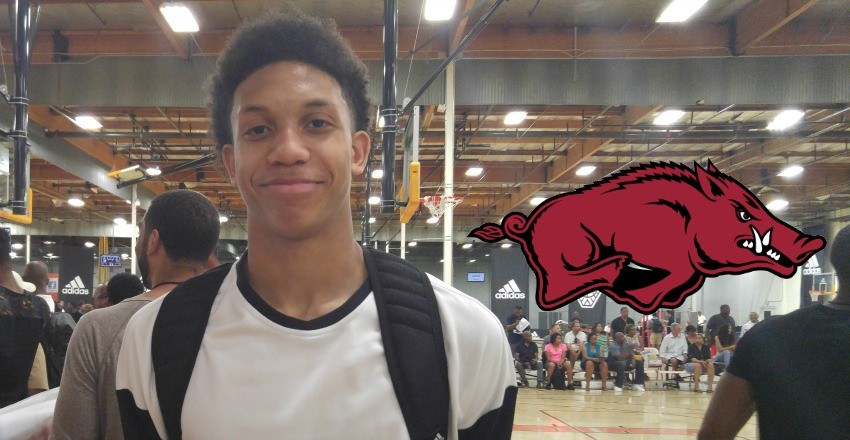 Arkansas has done some major damage in the 2018 class early on and today, the Hogs took another step towards a top of the line class in two years by grabbing a commitment from Ethan Henderson. A 6-foot-8 power forward from the state, the Parkview standout becomes the last member of his Arkansas Hawks' 16-under team's starting lineup to commit to the SEC crew.
A mobile and active big man that is great whenever the game speeds up, there isn't a better suited Mike Anderson-type of power forward better suited for his up-tempo system than Ethan Henderson. Someone that has rapidly developed some inner dog to him, the in-state recruit still does need to fill out, then again though, Henderson does have two more years before his college clock begins.
Best facing the basket, the Hawks star operates well out of the high post setting where he has improved his mid-range jumper and passing skills. He causes major damage and havoc on the glass due to his quick leaping skills and length showing off solid athleticism on putbacks dunks and on drop-off finishes.
A member of the Arkansas Hawks 16-under squad, a group that made it to the final four of the Adidas Summer Championship this past July, Arkansas now has grabbed commitments from the entire starting five. With four members of the 2018 class and a sophomore lead guard already in the hopper, very rarely do we see more than two travel teammates join the same college program. In this case, gaining verbal commitments from all five and this early in the process is something that has never been seen over the course of the past several years.
Henderson and his fellow committed members of the Hawks program are just not some random five, though. The 6-foot-8 forward can be seen within the top-50 of the HoopSeen Top-100 Rankings and is joined by elite big man and top-10 recruit Reggie Perry. Along with the interior duo is Isaiah Joe, a 6-foot-4 shot making wing, Desi Sills, a tough combo guard, and the lone members of the 2019 class, Justice Hill.
Now with four members of the 2018 class in the hopper, Arkansas can firmly claim the status as the number one class within the junior ranks. Furthermore, chemistry shouldn't be much of an issue for the foursome where they will have a few years already under their belts in sharpening the edges and growing accustomed to each other's strengths before hitting the Fayetteville campus.