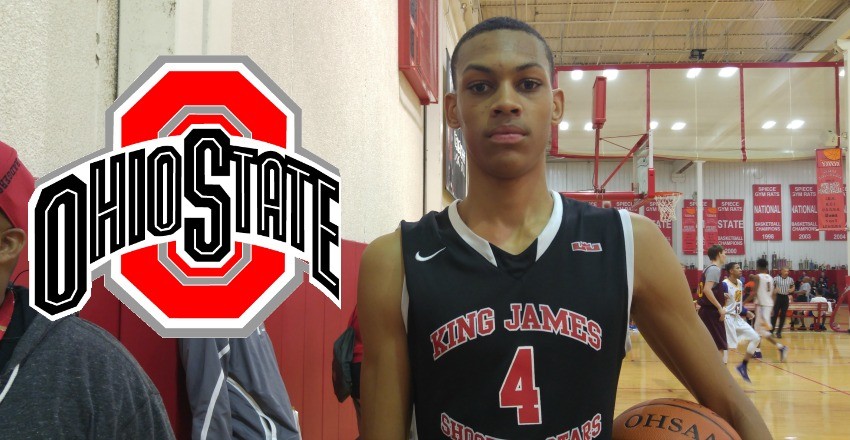 Ohio State got off to a solid start in the 2018 class last fall in landing the early commitment of Dane Goodwin, a 6-foot-4 shooting guard that has progressed nicely this past summer. However, things went from good to great on Saturday as the Buckeyes pulled in two of the top prospects from the state with Justin Ahrens and Darius Bazley.
Very rarely do two prospects commit to a college program at the same time. There is a lot of talk about package deals and what-not and while this was not the case with the King James travel teammates, the OSU coaching staff did do a phenomenal job of selling the situation in Columbus and with what could be accomplished by having the duo as part of the program.
Ahrens, a 6-foot-5 wing, took an unofficial visit to campus earlier in the week where he landed the offer from the Buckeyes. The younger brother of Kyle Ahrens, a sophomore on the Michigan State basketball squad, should be seen as a sneaky athlete and a tough-nosed wing, but better yet, as an immediate shot maker that can make jumpers with consistency out to 22-feet.
Calling it a day with his recruitment along with Ahrens is Darius Bazley, a slippery and smooth forward, standing over 6-foot-8, that can even play a point forward role. Ohio State fans will immediately think back to LaQuinton Ross when seeing Bazley where the 2018 forward does need to get stronger, but his talent base, ball skills, and feel for the game is off the charts.
Each a member of the 2018 HoopSeen Top-100 Rankings, the two in-state commits gave insight on their decision. "Me and Darius love everything about it," Ahrens stated where committing early just felt right. "We just feel like we wouldn't have fit anywhere else and we loved it. It just feels like home."
Two excellent, early commitments in the 2018 class for Ohio State, the staff at the Big 10 program have gone back to the drawing board this past spring, looking to enhance its roster with good talent but even better character kids. Ahrens and Bazley, along with Goodwin, fit the need with ease and furthermore, create for one of the best classes early on within the junior ranks.