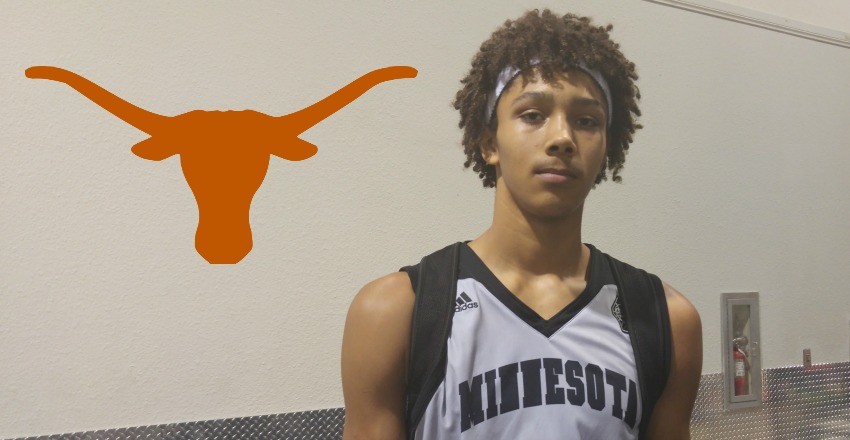 After taking a visit to the Austin campus this past weekend, Jericho Sims felt it was the time to end his recruitment as he came off the board in favor of the Texas Longhorns basketball program earlier today. A 6-foot-9, long and light bodied big man that has his best basketball ahead of him, Sims seems to be the ideal fit for the up and down system that Shaka Smart thrusts onto the playing floor.
A native of Minnesota, Sims is still far from a finished product where his numbers throughout the past few months on the adidas circuit weren't always the best. He didn't eclipse the seven points and seven rebounds per game averages, though it does seem that with more experience on the hardwood, the better that Sims has gotten and will continue to be.
Running with the D1 Minnesota travel bunch during the spring and summer months, the top-60 recruit was relied more upon for his rim protecting and rebounding abilities on both sides of the glass. The lefty is super quick off of his feet in the lane and can even step out and hit the mid-range jumper. He is a guy that is more than willing and capable of getting out and running the floor from rim to rim, something that should enhance his numbers further within the quick, up-tempo system at the Big 12 program.
The second commitment in the 2017 class for Texas, Sims joins another bouncy body and active forward in Royce Hamm, a 6-foot-8 senior from within the state's borders. UT will remain heavy in the hunt for its top targets in the backcourt as they are waist deep in the pursuit of top-50 guard Matt Coleman, along with others such as Kimani Lawrence, Jarrett Culver, Brandon Rachal, and Savion Flagg. Regardless, the Longhorns look strong early on with a top-15 class within the 2017 crop.