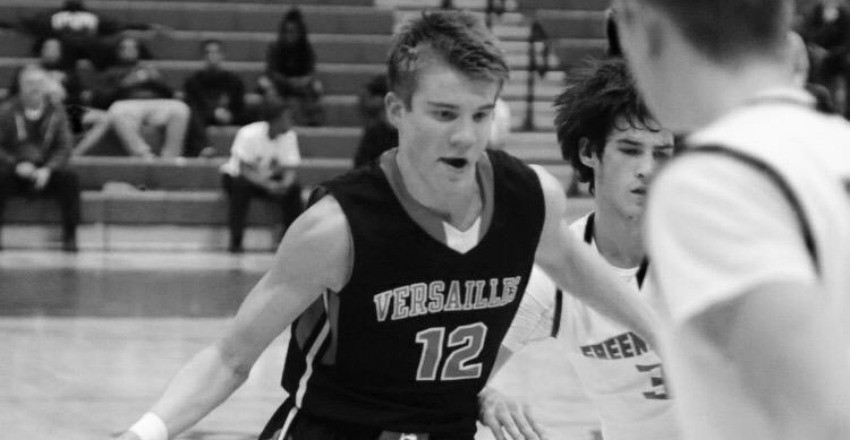 Dating back to mid-May, Justin Ahrens held zero scholarship offers. How things can quickly change as the 6-foot-5 wing, a top-100 prospect out of Versailles High School in Ohio, has seen the offers roll in before being offered by The Ohio State University today during his unofficial visit to the Columbus-based institution.
Like most growing up within the Buckeye State, receiving an offer from the Big 10 program is something that stands out compared to most others. While Ahrens is in no rush to make a decision and is still becoming accustomed to the entire recruiting process, the Ohio State offer does mean something to him. "It is such a good feeling to have this offer," Ahrens said describing the offer from the program that he grew up a fan of. "They told me that they think I could help be the start of a legacy team and they aren't recruiting me just to be a tenth or an eleventh man. They think I could have an instant impact and be a huge part of something great."
Someone that can be seen as one of the best shot makers in his class, Ahrens is not just a one trick pony as the King James travel program product can create for himself within the half-court setting, is deceptively explosive at the basket, and has a blue-collar work ethic and toughness to him.
While Ohio State is just the first power conference program to offer, Ahrens does have a familiarity with another Big 10 program. Kyle Ahrens, Justin's older brother, is a sophomore on the Spartan's roster and interest is beginning to ramp up now for the younger sibling. "Coach (Tom) Izzo just called me yesterday. He wants me to come watch me work out and get me onto campus soon," the sharpshooting wing stated. "It would be a big opportunity for me to be recruited by them but I am Justin Ahrens, not Kyle Ahren's little brother, like everybody else says. But I would definitely consider MSU."
A top-100 recruit within the 2018 class, expect for several other power conference programs from the Midwest to jump into the picture with Justin Ahrens, though with Ohio State now getting into the picture, the Buckeyes might just be the squad to beat.