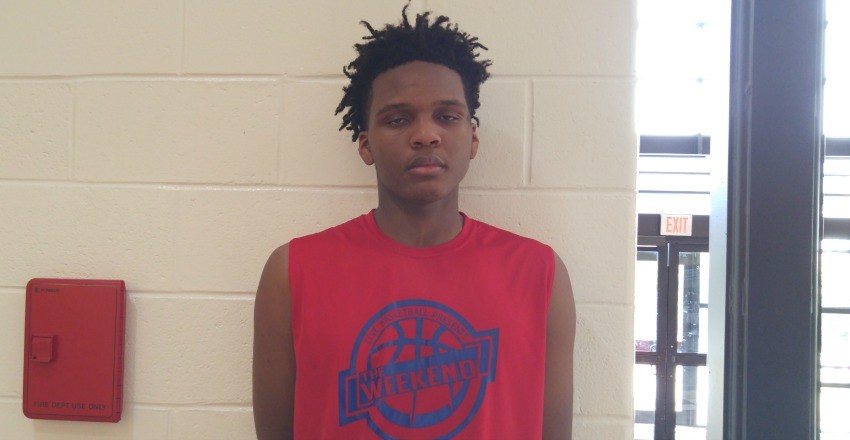 It is hard enough being the size of a grown man whenever you're still trying to figure out where your biology class is located. It is even more difficult sometimes playing alongside a guy similar to your size on the playing floor. Josh Carlton is now back with his DeMatha Catholic squad after a solid few months on the travel circuit lacing up his shoes next to 6-foot-10 big man Brandon Huffman for the Team Loaded NC squad. Teenage big men sometimes just get 'it' overnight where the senior center looked the best he has ever looked on Saturday in New Jersey.
Just like Huffman, Carlton is another 6-foot-10 big man that is a major bruiser within the paint. While he doesn't have much of a face-up jumper at this time, it was his unbelievable hands, touch, and rebounding prowess, that all stood out at The Weekend, a quick two day even taken place at Caldwell University.
A massive space eater but someone with improving ball skills and a back to the basket game, the Carolina native, who will suit up at DeMatha for the second straight year alongside top-50 wing DJ Harvey, had it all clicking during his three game stretch. Not only was he the best rebounder in the entire gym but he also displayed great value as a high-low frontcourt piece that is a much underrated passer of the basketball. Throw in his rim protecting services and quality motor in tracking down loose balls and it would seem that the interior producer has taken his game to the next level.
Catching up with Carlton following one of his contests in New Jersey, the big man brought us up to date with his past few months on the travel circuit. "I thought it went pretty well," he said. "I am just ready and prepared for my senior season now. I just want to bring a leadership role and play my game."
Due to his size, improving production, and rash of true 5-men in any given class, while not 100-percent set in stone, a few visits could be in line beginning next month. "As of right now, I think I am going to visit ECU on September 9, Clemson on September 18, and UConn on September 27," Carlton stated. A visit is also in mind to USC with Kansas State and Cincinnati fighting it out for the fifth and final one with the big man out of the Tar Heel State.
A rebounder, shot blocker, and quality passer, Josh Carlton has his game clicking on all cylinders as one should expect for visits to take place and a commitment to ensue with a signing to follow in November.