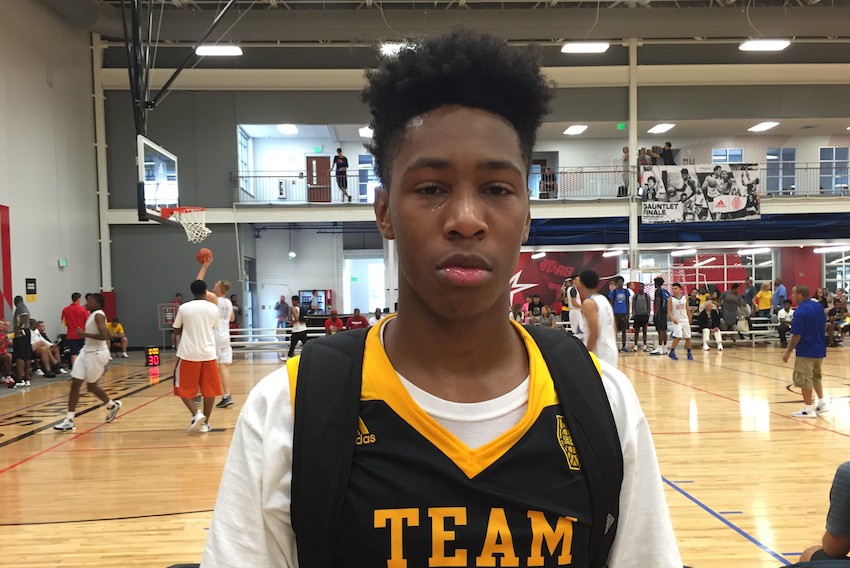 2017 Decatur (AL) Austin wing Javan Johnson had a big summer with Team Carroll on the adidas Gauntlet circuit. After a big week at the Gauntlet Finale in Spartanburg, South Carolina, the skilled, 6-foot-6 wing had a spike in his recruitment.
After a busy July, Johnson is prepared to take the next few steps in his recruitment. He has set official visit dates with two programs.
"September 16-18 I'll be at Murray State and September 24th I'll be at Troy," Johnson told HoopSeen.com. "I'm looking to visit South Alabama and Old Dominion, too. Definitely both of those schools."
Kansas State, Illinois State, Austin Peay, ECU, and Middle Tennessee State are also involved in his recruitment.
A smooth wing with an impressive skill-set, Johnson has the potential to be a special player down the road. At 6-foot-6, he brings impressive ball skills, along with the ability to shoot from the perimeter. His shot-making ability helped boost his recruitment during the first evaluation period.
While his recruitment is still taking shape, Murray State and South Alabama have made Johnson a priority in their 2017 recruiting classes. Troy, Old Dominion, and Austin Peay have come on strong, too. Barring any surprises, he hopes to wrap things up before the high school basketball season begins.
"I'll probably be signing in November unless something crazy happens."