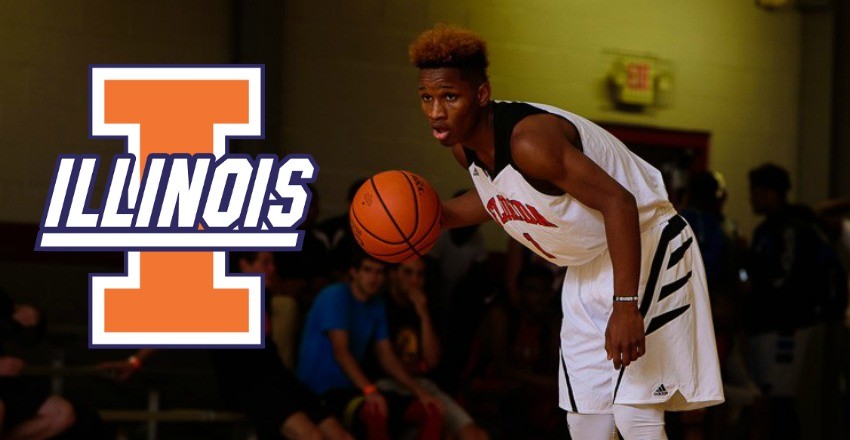 The good vibes continue for Illinois and after holding a top-10 2017 recruiting class heading into the weekend, the Big 10 bunch took things a step further after landing Trent Frazier on Sunday afternoon. A 6-foot-1 lead guard out of Florida, Frazier had a break out July but give kudos to the Illinois as they got in early with the Wellington High star, a primary reason for the guard's commitment.
A feisty and competitive lead guard, Frazier has always been one to play up to the competition level that he has faced off against. The lefty guard has become a much better facilitator and playmaker but what he has become known for in the past, and an asset that he will continue lay his hat on, is in his scoring abilities.
Sure, Frazier is a solid breakdown guy that is tough to stop from getting to the basket but he has vastly improved his outside jumper, a shot that makes him difficult to defend off of the high ball screen. While he didn't play on a shoe sponsored circuit this past summer, when he did go up against some of the more talented teams, like that during his time at the Best of the South when he led his Florida Elite bunch to a final four appearance, Frazier would always put everything that he had onto the court.
When we spoke with Frazier back in July, he gave glaring remarks about the head man in Champaign. "My family loves him," he said about John Groce, the head coach at Illinois. "It is nice to have someone that likes you and loves you."
The fourth commitment in the 2017 class, Frazier joins Da'Monte Williams and Javon Pickett in the backcourt for the Big 10 bunch. Where Pickett is a solid perimeter scoring presence and Williams is a hard finisher at the basket, Frazier is happy medium between them all and due to their versatility on the floor, all could share the perimeter together. Throw in top-30 big man Jeremiah Tilmon and John Groce's bunch looks to be situated with a top-five 2017 recruiting at the time being.