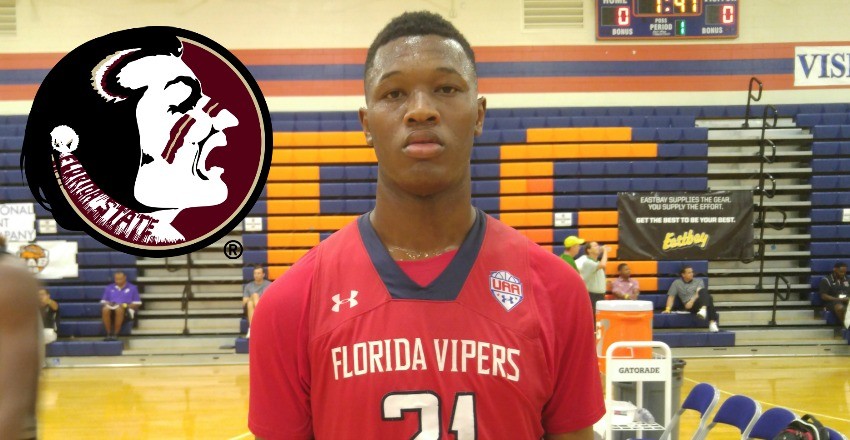 RaiQuan Gray, a 6-foot-8 combo forward from the Florida Vipers travel program, has called it a day with his college recruitment announcing his commitment to Florida State. A very unique prospect due to his size and versatility on the playing floor, Gray is the perfect new era, small-ball 4-man that can create for others and himself as he should flourish in Tallahassee in the years ahead.
Running with a very talented Florida Vipers 17-under bunch on the UAA circuit this past spring and summer, the Dillard High product has been able to display various dimensions to his game. More of a face-up, perimeter oriented forward, Gray enjoys having the ball in his hands and creating for others as a jumbo playmaker type. During UAA play, the Florida native held excellent averages of over 10 points, five rebounds, two assists, and one steal per game. While he isn't known for his outside jumper, it is the work that he does from off the bounce and producing from 15-feet and in that will be welcomed immediately by the staff at FSU.
Selecting the ACC program over the likes of Baylor, Virginia Tech, Ole Miss, Maryland, and Memphis, it was the bond that he created with the staff that won the in-state recruit over. "Really, it was just the relationship I had with Coach (Leonard) Hamilton," Gray said. "I feel like they can put me in the best situation possibly. They have great resources and a great educational program.
"Coach CY (Charlton Young) has been on me since my freshman year. He actually sent me my first college letter even though he wasn't at Florida State at the time but my relationship with him and Coach Hamilton is great. I just love the entire staff and I know some of the players like Jon (Isaac) and CJ (Walker)."
Keeping the best talent from within its state's borders has been key with Florida State in past years as they were able to land such prospects as Dwayne Bacon and Jon Isaac in consecutive years. Gray is next in line and the play making forward already has a feel for what he can do in Tallahassee, "They see me as a point forward type that can play make and really just create and let me do what I do like post guys up and pass it," Gray told HoopSeen.  "I think I am just a great player for their system and if Jon comes back next year, I can help him out and take some of the load off CJ as a ballhandler."
The second commitment in the 2017 class joining Bryan Trimble, a shutdown defender on the perimeter, Gray fits the mold perfectly of what Leonard Hamilton looks for in his forwards: skilled, versatile, and someone that can switch ball screens and defend various spots. Look for Florida State to remain in the hunt for a shot maker along with another potential versatile forward in closing out their 2017 recruiting class.