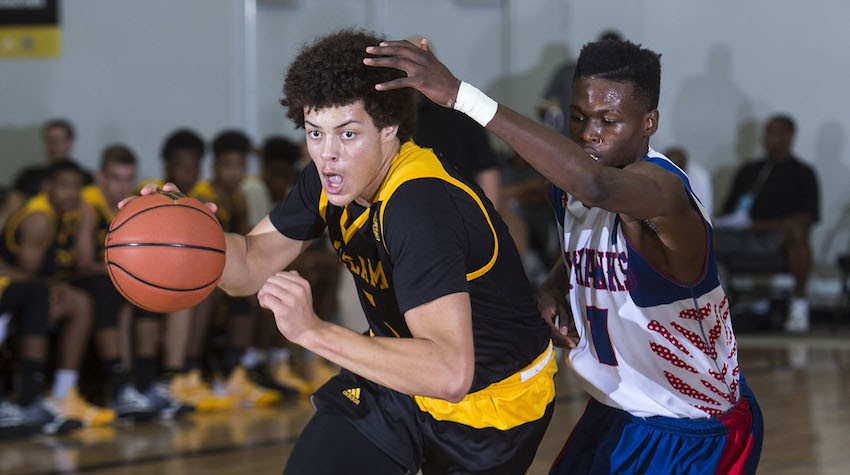 2017 Pelham (AL) power forward Alex Reese narrowed his school list to a manageable five schools Thursday evening, as he is eyeing the end of his recruitment. Alabama, Arizona State, Cincinnati, Georgia, and UAB are the remaining schools for the skilled 6-foot-8 big man.
With the capability of stretching the floor with his shooting ability and skill-set, Reese had many different suitors throughout the country. The senior wrapped up his summer with a solid session at Adidas Nations in Los Angeles, California. Reese averaged 25 points and 11 rebounds for Pelham last season, en route to being named First Team All-State.
Reese caught up with HoopSeen.com to break down his final suitors:
Alabama: "I have a really good relationship with all the staff and players, especially since I've been there a lot. Coach [Antoine] Pettway and I have a good relationship. He played there, so he knows everything about the school. Coach [Avery] Johnson came from the NBA and he knows how to get me there. I really like that. He has been telling me I will be a good fit for his system and play the role Shannon Hale does for them now."
Arizona State: "Arizona State was my latest offer. I met Anthony Coleman through adidas last year and I really liked him a lot, so when he got a job at Arizona State, he reached out and we went from there. Coach Hurley says he can develop me to play the 4 and he says I will be able to play the 3, too."
Cincinnati: "I have a pretty good relationship with Coach [Mick] Cronin and Coach [Larry] Davis. I don't know a lot about the school and program, but I really like those guys and I'm interested in learning more about Cincinnati."
Georgia: "Coach [Mark] Fox and Coach [Phillip] Pearson talk to me a lot. I haven't been over to campus for a visit yet, but I plan on visiting there sometime. They want to use me as a 4 man and put me in a lot of pick-and-pop situations on the floor."
UAB: "UAB was my first offer, so that's a really big deal to me. It's also close to home, and I like that, too. Coach [Rob] Ehsan has been pitching a lot of available playing time to me and I could come in and fill Haha's [William Lee] role."
Reese has yet to set any official visits, but he has two unofficial visits on the horizon. He will head to Arizona State this weekend for a visit, followed by a visit to Alabama on the 21st or the weekend of the 27th. 
There is no definitive date for Reese to have a decision. However, in an ideal world, he would like to move swiftly with his decision.
"I would like to commit and sign early. I want to make sure I get all of my visits in and see everything I need to see," he explained.