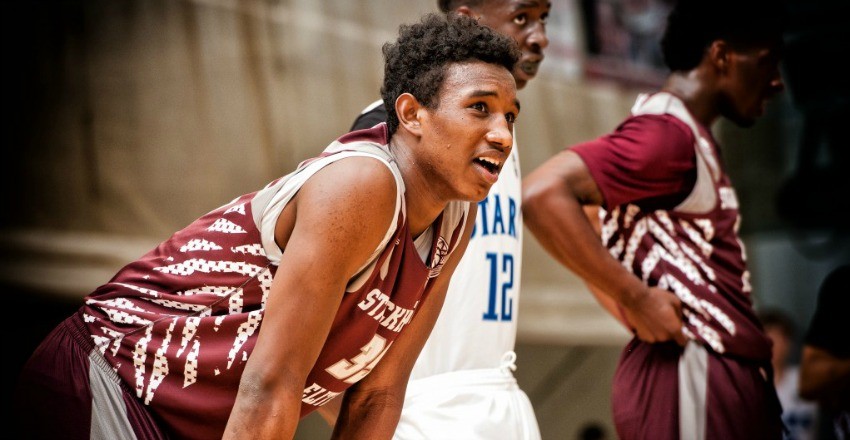 One of the very most competitive prospects in the 2017 class that has a solid international playing career already under his belt, Abu Kigab has remained a solid recruit for those all throughout America. Entering his final year of high school basketball this fall at Prolific Prep in California, the Canadian small forward gave insight on a condensed list, visits set, and the summer that was.
Running with the Oakland Soldiers 17-under crew this past spring on the Nike EYBL circuit, Kigab displayed everything that makes him unique. Super versatile and a guy that brings a giant chip to the floor each time out, Kigab has leaned his hat on his ability to defend every spot on the floor outside of the center and point guard positions, while also becoming a better shooter of the basketball in recent months.
Averaging over an assistant and steal per game, along with close to 10 points and six rebounders on the Nike circuit in April and May, Kigab then went overseas and helped the Canadian U18 bunch in Chile. "My expectations going in were very high and I feel like I didn't achieve all of my goals," Kigab said about his summer spent in Chile and on the travel circuit. "I set some really high goals but I wasn't able to achieve them like winning gold in the FIBA Americas and winning the Nike Peach Jam."
All didn't go to waste and after averaging close to nine points, four rebounds, and two steals in less than 20 minutes of action in FIBA play, Kigab has kept his college stock up as he recently narrowed down his list of schools. "I cut my list to six with Tennessee, Illinois, Oregon, California, USC, and UCLA," the versatile 2017 stated. "I feel like I can fit into any of these schools' systems and hopefully lead the teams to conference championships and deep into the NCAA Tournament."
Heading off to California tomorrow to prepare for and finish out his senior year of high school ball, Kigab has three official visits set in the coming weeks. First he will head to Oregon on September 10 with fellow countryman and top-100 combo guard Lindell Wigginton in getting a look at the Pac 12 program. On September 16, Illinois will get the chance to host the Canadian. Other visits could be set in the coming weeks but at the moment, the last visit Kigab has set is to California as he will remain in the state and give a look at Cuonzo Martin's program on October 7.
Expect for Kigab to take his time with the process but in the meantime, round out his game and only sharpen the competitive edge that he displays with on the hardwood.