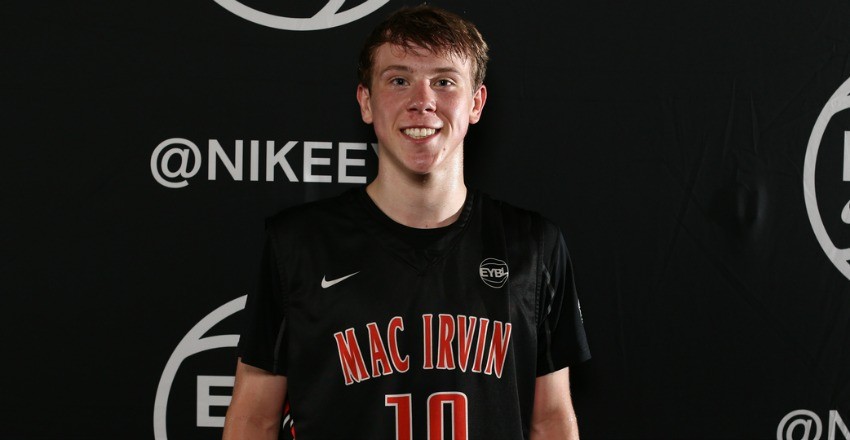 In a whirlwind of a few months, Storm Murphy has gone from a limited college recruitment, one that saw primarily division-2 programs involved with the 5-foot-11 guard, to a broad divison-1 recruitment with attention coming from all over the place. On Wednesday, the Mac Irvin Fire product called it an end with things as he gave his verbal commitment to Wofford.
A masterful lead guard that comprehends just how to run his team in the backcourt as Murphy rarely ever gets sped up with the basketball in his hands and makes all of the right plays even when heavily pressured, there is a lot of value placed upon the Middleton High guard. While the Wisconsin native doesn't have the ideal height and athleticism at the lead guard spot, he more than makes up for it with his feel, intellect, and play making abilities out top.
Making the transition to the Nike EYBL circuit in May running with the powerhouse program from Chicago in the Mac Irvin Fire squad, Murphy immediately boosted his bunch in showing that he can make others better. While he shot an efficient 37-percent from beyond the arc, it was his ability to take care of the basketball that stood out the most. He led the entire Nike circuit in assist-to turnover ratio as he sported a near five-to-one ratio that was impossible to beat.
Giving his word to Mike Young and his Wofford basketball program, a squad that was the first divison-1 school to offer, Murphy seems like a perfect fit for the Southern Conference juggernaut. "What I like about Wofford is the coaching staff, the history of great success, level of competition, high academic situation, and the overall feel I have about the school," Murphy stated. "Wofford has really shown me that I am a priority by coming to all of my games in July and being in constant contact with the people around me and myself."
A bit out of its geographical niche, it was the winning pedigree that won out with Murphy. "They play in a great conference but also play many high major teams every year and they have made the NCAA tournament three times in the past five years," he told HoopSeen.
The first commitment in the 2017 class for Wofford, Murphy brings loads of intangibles, a competitive edge, and the ability to run his team from the get-go that should enable for further success for the SoCon basketball program moving ahead.