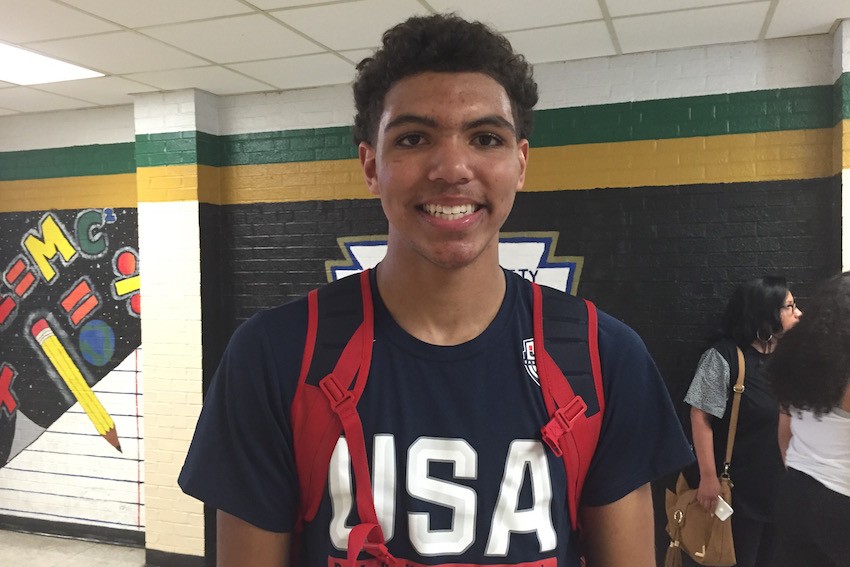 The Georgia-South Carolina state-line was popular over the weekend, as the EYBL travel season concluded with Peach Jam in North Augusta, South Carolina. Right across the river in Augusta, Georgia, the Peach Invitational Tournament was on display and there were several impressive performers there, too.
One of those impressive prospects was 2018 San Diego (CA) St. Augustine combination forward Taeshon Cherry. The 6-foot-8 forward showed an impressive skill-set and ability to shoot the basketball with his size. He's very fluid with his game and will only get better from here. With versatility and a high ceiling, he's one to watch as the July evaluation period rolls through.
"I think I am a 3, but I can play the 4 too," Cherry told HoopSeen.com.
To no one's surprise, some of the top programs in the country are already tracking Cherry.
"I have scholarship offers from Arizona, San Diego State, California, Kansas, Virginia, Florida State, Nevada, Colorado, Colorado State, and Texas A&M," he explained. "Gonzaga, USC, and UCLA are some of the schools interested."
Nearly all of those schools were in attendance to see Cherry and the Oakland Soldiers take on Southern Stampede Saturday afternoon, including Arizona's Sean Miller, Kansas' Bill Self, Texas A&M's Bill Kennedy, and San Diego State's Steve Fisher.
While it is early in the recruiting process for Cherry, several programs have already made a strong impression on him.
"San Diego State, Arizona, Texas A&M, Gonzaga, and Florida State are the schools really recruiting me hard right now."
Cherry has a steady recruitment going right now, but expect that to pick up as July continues. Currently sitting at No. 57 in the 2018 HoopSeen national rankings, only more schools will continue to jump into the fray.