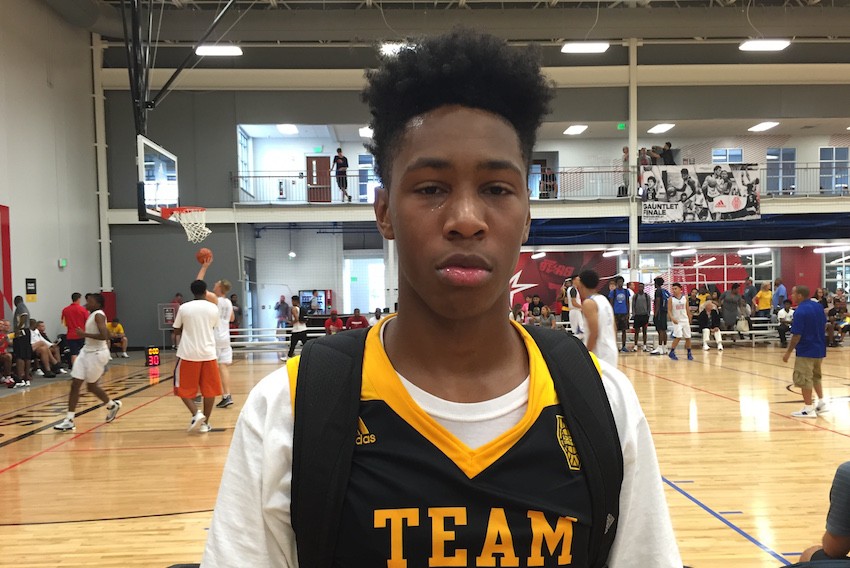 After a long July, the travel season is behind us and scholarship offers and interest have rolled in for players all across the country. Many different prospects took advantage of the summer evaluation periods, bettering themselves for the future. Here are six players from Alabama and Georgia that took advantage of their final AAU weekends...
1.) Garrison Brooks, 2017 C, Auburn (AL): Brooks had a phenomenal rebound from a disappointing spring, as he switched to Team Carroll on the adidas circuit and reaped the rewards. At 6-foot-9, Brooks is a throwback big man with the ability to score with his back to the basket. Yes, coming into July he held several high-major offers, but after a strong summer, Brooks added a handful of new ones to his list. DePaul, Pittsburgh, Arizona State, Providence, Texas A&M, Arkansas, and VCU all extended offers, and he also solidified himself as a top 150 prospect.
2.) Tevin Brown, 2017 SG, Fairhope (AL): Last year, Javien Williams came out of nowhere and burst onto the scene in Alabama. Brown also made a big statement during the summer in similar fashion. After the April evaluation periods, the 6-foot-5 sharpshooter held zero scholarship offers. Nevertheless, Brown ends his AAU career with 25 scholarship offers and counting. South Alabama, Middle Tennessee State, Murray State, Troy, Louisiana Tech, Wofford, Arkansas-Little Rock, Florida Gulf Coast, UTEP, and Southern Miss are some of his most recent offers.
3.) Galin Smith, 2017 PF, Clinton (MS): Prior to Peach Jam, Smith had generated a little bit of regional interest, as Ole Miss, Mississippi State, Alabama, UAB, and South Alabama were among the schools in pursuit. However, after a breakout performance at Peach Jam with Team Penny, Smith was able to take his recruitment to the next level. With a decent amount of skill and a hard-nosed attitude, Smith caught the eye of several top-tier programs. Alabama, Tulane, Kansas State, and Louisiana Tech are some of the new offers for the 6-foot-9 big man and plenty of others are interested. 
4.) Javan Johnson, 2017 SF, Austin (AL) (pictured): Due to an injury at the conclusion of the high school season, Johnson had a rough spring, as he attempted to knock the rust off and rush a comeback. However, he looked strong and as good as ever in July, especially in Spartanburg, South Carolina at the adidas Gauntlet Finale. The 6-foot-6 wing oozes with upside and potential, and that potential came to fruition this month. Prior to July, Murray State and South Alabama were the early leaders for Johnson. Now, both of those schools will have to fend off the likes of Old Dominion, Troy, Illinois State, ECU, Kansas State, and Auburn.
5.) Ladarius Brewer, 2017 SF, Meridian (MS): Brewer managed to slip through the cracks and underneath the radar for most of his high school career, but after a big July, it's safe to say people know the name now. At 6-foot-5, Brewer is a gifted shooter and scorer with the ability to score from all 3 levels. He had some big performances over the course of the month. Prior to July, Brewer held a lone offer from Troy. Now, the sharpshooter has received offers from Murray State, UTEP, Jacksonville State, Southeast Missouri, Duquesne, and Delta State, along with interest from Buffalo and Rhode Island.
6.) Herb Jones, 2017 SG, Hale County (AL): Jones had a terrific summer to conclude his AAU career, as he played at a high level and won an AAU National Championship in Orlando, Florida. In fact, the 6-foot-7 wing may have played his best basketball to date. Jones made things look easy on the court, as he is a is a jack-of-all trades guy with ability to shoot, pass, rebound, and defend. Head coaches from Alabama, Auburn, UAB, Florida, South Alabama, and Georgia Tech followed him closely in July with previous offers; Georgia, Florida Gulf Coast, Western Kentucky and Florida State extended offers throughout the month, and a host of other schools are showing interest.