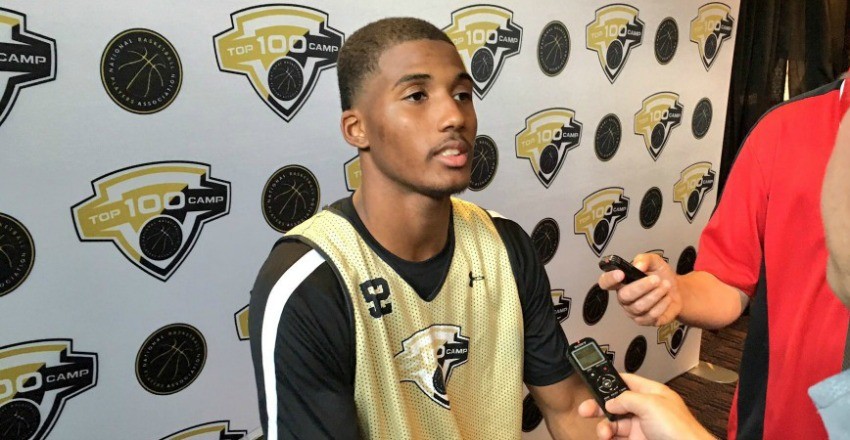 One of the top breakout performers from the spring, Nick Weatherspoon took a step towards a commitment on Thursday by announcing a top-10 for his college list. The 6-foot-2 guard brings ideal physical tangibles to the backcourt along with an unbelievably jet quick first step where he is beyond explosive at the basket. Prior to his final month of play on the travel circuit, the MBA Hoops Elite guard shared his thoughts on his cut list.
One of the faces of the adidas circuit this spring, Weatherspoon has used his second year of playing on the 17-under level appropriately in demolishing his opponents on the playing floor. The Jackson, Mississippi native has been tremendous all year long and while he had his strong suitors a year ago, the fame and pursuit from the top programs nationally have begun to come in for the Velma Jackson High star.
During the famed NBPA Top 100 Camp a few weeks ago, Weatherspoon thrilled many in attendance with his elite first step, scoring prowess in the lane, and uber-levels of toughness that have made him the number-29 ranked prospect within the 2017 HoopSeen Rankings. Beforehand, Weatherpoon has dominated his peers during the months of April and May where he is second in scoring on the adidas circuit averaging over 23 points off of 45-percent shooting, has gotten much better with his outside jumper nearly eclipsing a respectable 38-percent from deep, and in getting to the line close to six times per contest. Toss in over five boards and three boards each time out and the two-way producer is one of the very best nationally at the lead guard spot.
Moving to a fall commitment, the rising senior has narrowed things down to a final 10, a group that includes Ohio State, Mississippi State, a program that showcases his older brother, Quinndary, Georgetown, Indiana, LSU, Iowa State, UNC, NC State and Memphis. Catching up with the four-star recruit, Weatherspoon gave his thoughts on each program.
Ohio State
"I love them because I know Coach Matta pushes his guards and makes them better.
Mississippi State
"That's my home state. My brother goes there and I love them because Coach Howland lets his guards go."
Georgetown
"I know coach (John Thompson) really well. We developed a good relationship."
Indiana
"Coach Tom Crean has always been straight up with me and tells me what I do wrong and just lets me know how he would use me."
LSU
"I know Coach Jones and I like how he gets on his guards. I have seen him do it a couple of times last year as he put his guards in the situation to score."
Iowa State
"I am close to Coach (Willie) Smalls. He's from Mississippi and that's a bond right there. I watched Iowa State and they love to run but also set up plays."
North Carolina
"Coach (Roy) Williams is an NBA coach and I talk to some of his former players. They said he pushes them and doesn't let them quit until you give him your best and that's something that I need."
NC State
"I am very close to some of their players like Dennis (Smith) and Darius (Hicks). They tell me a little about their team plus it's in the ACC basketball country."
Memphis
"I know they like to play defense and most of their guards are from Memphis so I know it's pretty tough in their practices."
Looking ahead there seems to be another step before a final commitment is made. "I am going to cut my list to a final five at the end of the summer," Weatherspoon told HoopSeen.
Expect for all ten programs to hastily chase after Weatherspoon this summer and in keeping in mind just how lacking the lead guard crop is within the 2017 ranks, the Mississippi native will be a necessary piece and wanted man by all of those in pursuit.