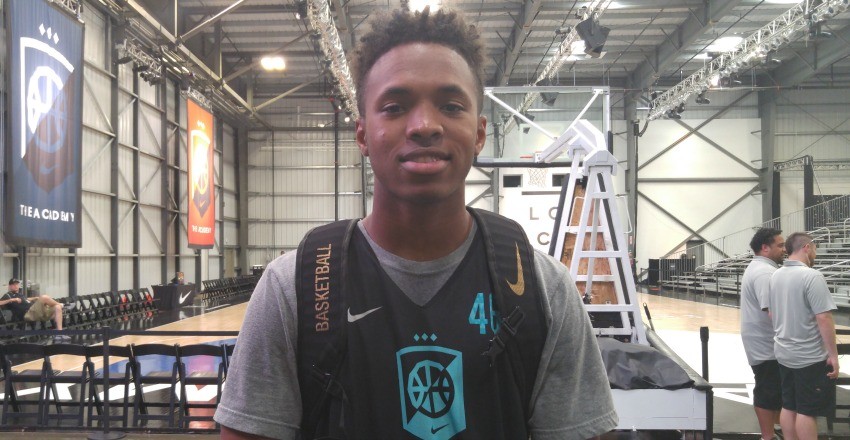 Sitting out the high school year with a foot injury wasn't in the plans for Kimani Lawrence but the 6-foot-6 wing more than made up for lost time this past spring and summer on the Nike EYBL circuit. Running with the loaded Expressions Elite 17-under bunch, the rising senior established himself as an efficient scorer and two-way producer on the playing floor. Due to his production and size, a bevy of some of the top programs nationally has entered the mix for the New Hampton Prep product.
Bringing ideal physical tangibles to the small forward position as Lawrence sports a 6-foot-10 wingspan and the body that should enable for quality strength gain in a college weight room, the Providence native has next level abilities written all over him. More than just a fine athlete and hard-nosed weapon on the perimeter, there are some ball skills already in tow with the Expressions star.
Making over 45-percent of his outside jumpers and converting on more than a half of his shot attempts from the field during the EYBL season this past year, Kimani Lawrence is a model of efficiency. He can score it, just as he did in averaging over 15 points per contest, rebound it, as he brought in over five boards per game, and get to the foul line, just as he did averaging four foul shots per outing. In the final viewing of Lawrence in Las Vegas this past weekend, the 6-foot-6 wing helped on the defensive end as he swatted away four shots, displaying the ultra-valuable 3-and-D traits that everyone is in love with at the current moment.
After a quality past few months, Lawrence brought us up to speed on his feelings with how everything has gone. "It went pretty well. There were a lot of challenges being with a new team but we came together at Peach Jam," the New England native stated. "I matured as a player in impacting the game outside of just scoring the basketball. I think I have gotten a lot better at impacting things when my shot isn't falling and have gotten a lot better because of it."
Due to his two-way capabilities and quality motor on the playing floor, a plethora of top schools nationally have taken notice. "I hear a lot from USC, definitely, and also Pitt, Texas, Florida, Cal, Arizona State, and Marquette," Lawrence stated.
While a potential visit to USC could take place before he leaves the west coast as Lawrence is one of the few to get invited to the prestigious Nike Skills Academy in Los Angeles this week, he does have a plan moving ahead with his college recruitment. "I am going to try and cut my list down at the end of August and take some unofficials and then take my official visits in September," the 15 point per game scorer stated.
Expect for the seven programs Lawrence spoke on to remain in hot pursuit of the high upside but already productive wing in the coming weeks and months before a more than likely early signing occurs in November.