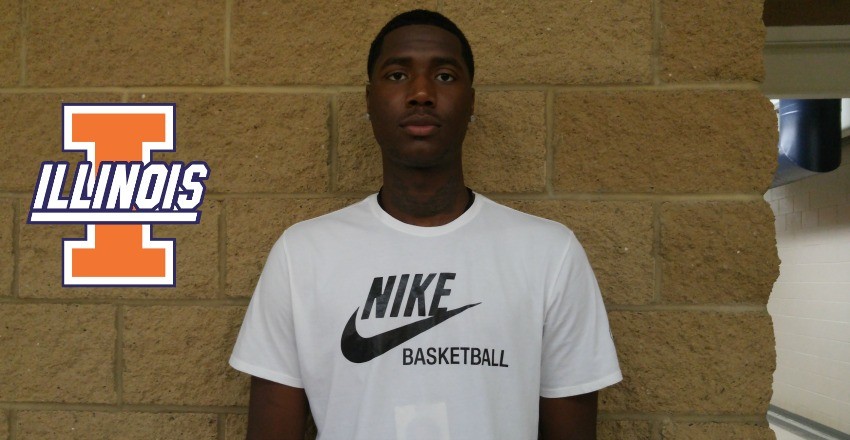 The Illinois fan base has been clamoring for a day like this for some time now. While there has been some success on the recruiting trail, nothing beats the commitment of Jeremiah Tilmon to the Big 10 bunch. The 6-foot-10 center, by way of La Lumiere in Indiana, made it official Monday by giving his verbal commitment to John Groce and his staff.
A native of East St. Louis, Illinois, ever since taking over the reins of the program, John Groce and his crew have been vocal about keeping the best talent within its state's borders. The commitment of Jeremiah Tilmon fits the mold perfectly as the mobile and hard playing 5-man is one of the most polished back to the rim centers that the high school ranks has to offer.
Despite sitting out the entire travel season nursing a shoulder injury, the Fighting Illini have not backed off one bit with the elite big man. The first program to get on board with the rising senior three years ago, the in-state program fought off the likes of UNC, Iowa, Kansas, and UCLA and it was a calling to stay local that rang true with the number-15 ranked prospect. "Illinois is my home. My heart was telling me that is where I need to be," Tilmon stated.
A hard playing and rim protecting center that has knocked off some of the baby fat in recent months, Tilmon should be expected to step onto campus and immediately produce from 15-feet and in. He has developed a solid face-up jumper and is capable of scoring over either shoulder in the lane. While he isn't a premier athlete, the top-25 recruit comprehends how to play angles down low in outsmarting his defender.  A fine shot changer as he uses his frame and length appropriately, TIlmon is one of the best two-way producers and contributors in the frontcourt that the class of 2017 has to offer.
While many others attempted to sell its national brand, Tilmon gave even further insight on his college commitment. "I take pride in being loyal. I have a great bond with the coaches," he told HoopSeen. "I love being on the campus. There is no place that I would rather be."
Illinois has already put together a very solid class in the backcourt holding commitments of solid scoring combo guard option in DaMonte Williams, the number 87-ranked prospect in the 2017 class, along with JaVon Pickett, a well-rounded wing that can score the basketball and has the abilities to defend various spots on the other side of the floor.
Shaping up to be the best class of the John Groce era to date, the commitment of Jeremiah Tilmon should bring room for great optimism and the chance for the staff to grab much more talent in selling the services of the near 7-footer to the rest of its priority recruits this summer and beyond.