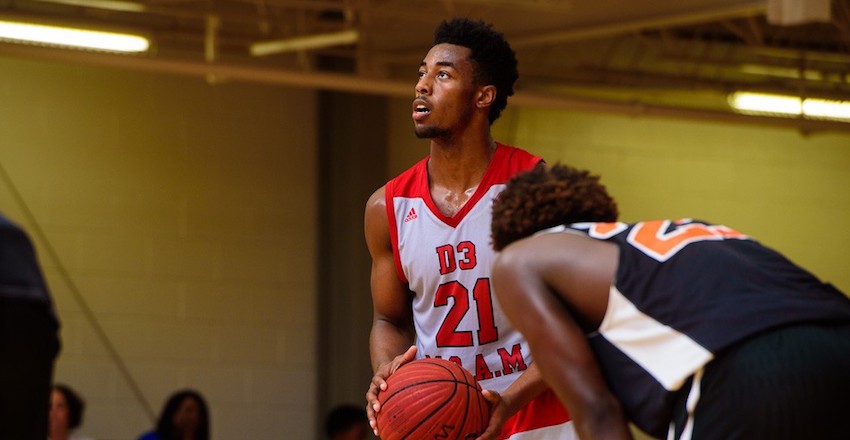 2017 Sarasota (FL) Riverview wing Brion Whitley had a fantastic travel season with D3 M.O.A.M, as he showcased his impressive scoring prowess consistently. The physical power wing started out the spring being a tough finisher at the rim, but, by the end of the summer, Whitley became a consistent shooter from the perimeter, too. 
The 6-foot-4 wing reeled in a number of scholarship offers with 4.0 GPA and play over the summer. He's now down to four schools: Harvard, UNC-Wilmington, UT-Chattanooga, and Wofford.
Whitley broke down what he likes about each respective school:
Harvard: "I love the school and working, and, well, there's no better place to set up your future than Harvard. I also love how the assistant took time to watch me in high school and show a strong interest."
UNC-Wilmington: "I love the coaching staff. They have shown the most excitement for me. Also, the head coach knows my trainer and he says he is a great coach to play for to go to a higher level after college."
UT-Chattanooga: "Head coach Matt McCall has been following me since the 9th grade and always believed in me. I love him as a mentor and coach. They also have a very strong uprising team."
Wofford: "Wofford has a beautiful setting. They have one of the top business schools in the country, and they are a competitive basketball team with great incoming talent."
Whitley is looking to move swiftly with his recruitment. He has already set up three official visits for the next two months. UNC-Wilmington will host him August 19-21; he will see UT-Chattanooga September 2-4, followed by Wofford September 8-10.