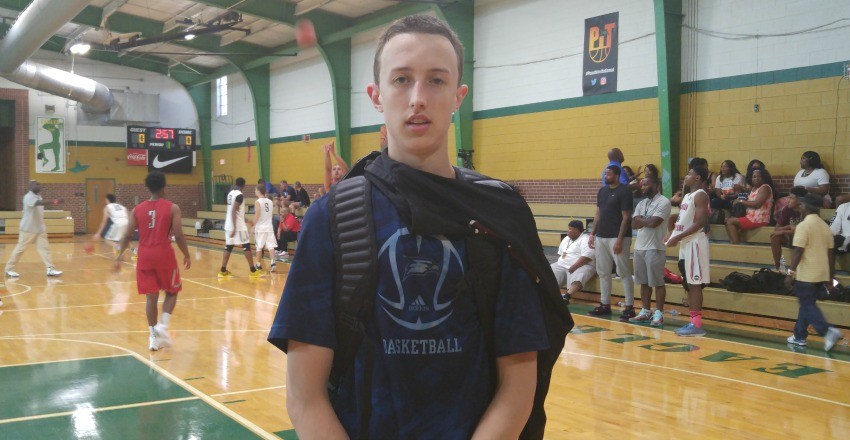 There were tons of coaches in tow at the prestigious Nike Peach Jam on Friday. Pool play was just finishing up and some of the premier talents in high school basketball were seeing their Nike prep careers come to an end as bracket play was set to take off on Saturday afternoon. However, it was Alex O'Connell that brought in a boatload of coaches to an offsite event as the Peach State native continues to see his stock hit the next level.
Bringing great length and uber levels of toughness and some swagger to the hardwood, O'Connell is one of the more entertaining watches on the travel circuit. The Team United wing has gotten better at play making some from off the bounce but still is at his best on the perimeter jumper attempt and off of the drive to the basket. He can get his shot off over any type of defense as he can stop on a dime and elevate with great depth on the long-range jumper. Not just a perimeter based ballplayer, the athleticism out of the Milton High product is a great asset of his as he is fairly explosive at the basket as he was seen throwing down 360 windmill dunks in warmups.
Due to his quality grades, fine upside, and shooting stroke, the college coaching crowd was packed to see the intriguing top-100 rising senior as he matched off with super summer stock booster Collin Sexton. Head coaches from NC State, Duke, Louisville, Ole Miss, Syracuse, Villanova, Virginia Tech, USC, Alabama, Florida, Xavier, Cincinnati, Arizona, Georgia Tech, James Madison, Kansas, LSU, and Oklahoma State all were in attendance while assistants from such programs as Wake Forest, Butler, Iowa State, Ohio, Ohio State, and Arizona State took in the play of the 6-foot-5 wing.
Duke is a program that has just begun to get involved with the recruitment of O'Connell as the Peach State native's father once suited up for the Blue Devils back in the 1970s. "I like them a lot," the bouncy wing stated. "It's interesting. I am intrigued to see them and coming into the 2017 class with four others guys and all playing a part for them would be fun. Having them watch me is pretty important."
The Syracuse Orange became the first blueblood to offer O'Connell two weeks back after an unofficial visit, an offer that his gone a long way with the southeast recruit. "It felt great," the Team United star stated. "I went up there and Coach Boeheim and I talked. I have a great relationship with Coach Red (Autry) and Coach Mac (Gerry McNamara). I also know one of their players really well in Matt Moyer."
The recruiting process of O'Connell is far from over but as schools continue to attempt to butt their way into the mix, the athletic shooter of the ball is eyeing a more condensed list soon. "I want to take three or four official visits in August or September and hopefully decide after that on where I want to go and commit," O'Connell told HoopSeen. "I am probably hearing the most from Ole Miss, Arizona State, Syracuse, Iowa State, Butler, and Xavier."
A top-100 prospect in the 2017 class with some unique abilities due to his quickness, athleticism, and confidence on his jumper, Louisville and NC State both jumped into the fray on Friday afternoon with offers to the Milton High standout, a recruit that is still on the upward trajectory with his recruitment and overall game.