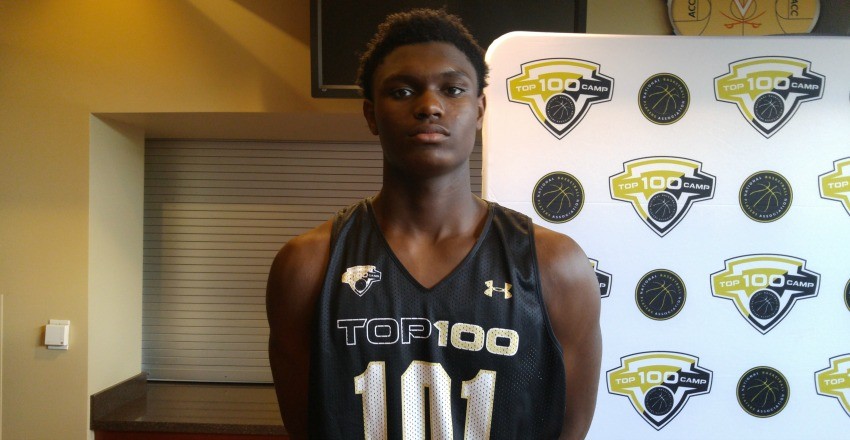 Zion Williamson announced himself onto the national scene this past weekend in Charlottesville, Virginia. Sure, the South Carolina native has seen his stock soar this spring but it was his domination on the hardwood at the loaded NBPA Top 100 Camp that made himself a well-talked about name.
Suiting up for the first time on a shoe company sponsored program this spring, the Game Elite sophomore has utterly dominated each and every opponent that he has faced. Having grown over three inches and adding close to 40 pounds, Williamson has received comparisons to such as others as Draymond Green and Larry Johnson. The explosive forward compares even more favorably to an Anthony Bennett-type where the lefty is a killer off of the face-up, gobbles up rebounds from in and out of his area, and sets the physical nature of any given contest that he competes in.
Lacing up his shoes at John Paul Jones Area the past few days, Williamson was the most entertaining and also the most productive player in attendance. Having led the entire field in scoring averaging close to 15 points off of close to 70-percent shooting from the field, to go along with over five rebounds per contest, the Spartanburg Day product was named MVP of the entire event, an honor that Williamson didn't take lightly. "I was happy beyond words, that a committee of professionals would select me," the top-10 sophomore stated.
Offers from such programs have come from the likes of Maryland, UConn, NC State, Florida, Clemson, LSU, and UCLA, where, over the weekend, Baylor and WKU joined the fray. The 6-foot-7 play maker has remained humble through it all, taking everything in stride. "It's amazing, knowing that a lot of schools want me," the productive sophomore said.
Before July begins and Williamson hits the trail with his Game Elite bunch, a few visits are on the horizon. "I'll be at North Carolina on Wednesday, Clemson on Thursday, and NC State next Wednesday," the five-star noted.
Expect for the best of the best to keep a closetful eye on Williamson next month as he continues to dominate his peers and solidify himself as one of the best that his class has to offer.