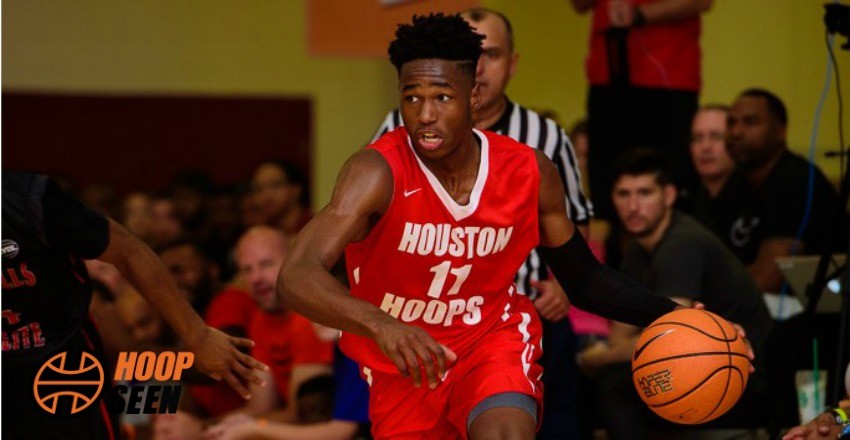 A versatile play maker in the backcourt with great size and length, RJ Nembhard called it a day with his college recruitment on Thursday morning by committing to TCU. Now being led by former Pitt boss Jamie Dixon, the one-time star of the Horned Frogs has put together a great, well-rounded coaching staff that has paid dividends on the recruiting trail. The verbal from Nembhard is a giant step in the right direction heading into the July evaluation periods next week.
While he hasn't had the best of springs on the travel circuit with the Houston Hoops squad, Nembhard still has shown off tons of upside and potential as he is capable of playing all three spots on the perimeter. The 6-foot-4 guard sports a 6-foot-9 wingspan along with a near 40-inch vertical leap, all of which he encompasses appropriately within his game on hard drives and finishes at the basket.
Being tracked by a plethora of the top programs throughout the Big 12 and SEC, along with further pursuance by California, a home state school of his as Nembhard still retreats to the San Diego area during the summer to see some of his family, TCU added a top-100 recruit on Thursday. In the EYBL circuit the past few months, the Lone Star State product has put together solid averages across the board of over 13 points, three rebounds, and two assists per contest in just 25 minutes work of action.
Best used on the ball as Nembhard can direct and facilitate for his squad like a savvy vet, Nembhard has gotten much better at knocking down outside jumpers where he has eclipsed the 35-percent mark from 3-point land this summer. Throw in the Keller High standout's already developed athleticism, long set of arms and quickness that allow for him to guard various spots out top, and a consistent approach, and it seems that TCU landed a fine, four year college standout with the in-state recruit.