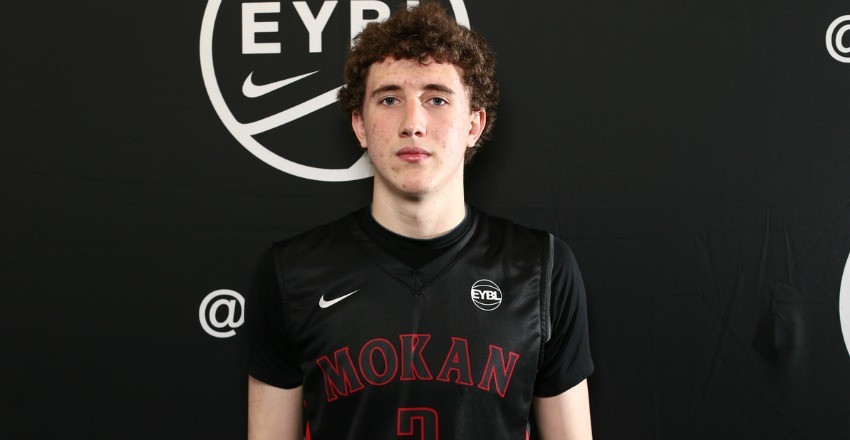 The talk of the MoKan Elite bunch these past two years have surrounded around the elite duo that is Michael Porter and Trae Young. Sure, both are worthy of the praise that they receive but there is more to the team than just the two five-star recruits. Jared Ridder has surfaced as a high-major prospect these past few months and running alongside his talented teammates has enabled for an even better recruitment that has occurred this spring.
The need for size and shooting is always in tow and with Jared Ridder, you get both as the Kickapoo High star has a penchant for making outside jumpers. Playing off the ball and with a steady demeanor and good feel for the game, the MoKan product has posted solid percentages on the EYBL circuit. Averaging nearly eight points per game, Ridder has hit on over half of his field goal attempts while also knocking down 43-percent of his near 50 3-point jumper attempts.
While further ball skill development and strength gain wouldn't hurt the cause in reaching the next level in his game, he does rebound the ball at a fair rate and averages less than a turnover per contest. However, the rising senior's value comes directly back to his outside stroke, a shot that could be quite the weapon for any college program in the years ahead.
Playing on the travel circuit this spring, greater eyes have been placed on Ridder, leading to more offers, of which have come from the likes of Boise State, Xavier, Arkansas, Northern Iowa, and Oklahoma State.
On Tuesday, Xavier hosted the sharpshooting wing, a visit that seemed to have gone well. "It was great. I loved it," he said. "They showed us the academic center, business center, student union, housing areas and then the basketball area."
Chris Mack has become known for his liking of bigger wing types with ball skills and a shooting stroke, of which Ridder fits perfectly. "They said they would use my versatility. The style they play, I could get the rebound and bring it up and I could run the floor and spot up," Ridder stated about how he could be used at the Big East program.
Outside of an earlier visit to Arkansas this spring, Ridder is eyeing two more in the coming weeks. "I am going to Oklahoma State on June 20," he said. "I am working on a date to Iowa State still." It should be noted that the Cyclones jumped into the picture on Tuesday with an offer to Kickapoo High product "I am very happy with it! I know they always have a good program so I'm going to be looking further into it."
Coming down the stretch, it seems that a college commitment could ensue in the coming week, which is if all feels right. When broached on the subject of a decision, Ridder seems anxious in selecting a school. "I might commit somewhere before July starts," he told HoopSeen.
It looks as if Arkansas, Iowa State, Oklahoma State, and Xavier may have the best shot at Ridder seeing that each will have had the outside threat on its campus prior to his commitment. Either way, expect for wherever the Missouri native picks, for that respective program to have welcomed one of the top shooters that the nation boasts from within the 2017 class.